There are a lot of meals that I remember my momma making when we were growing up. Some that I liked and some that I (as a kid with immature taste buds) I could have lived without. Of course, it's the ones that I liked that I remember the most and now make for my family. This is one of those meals.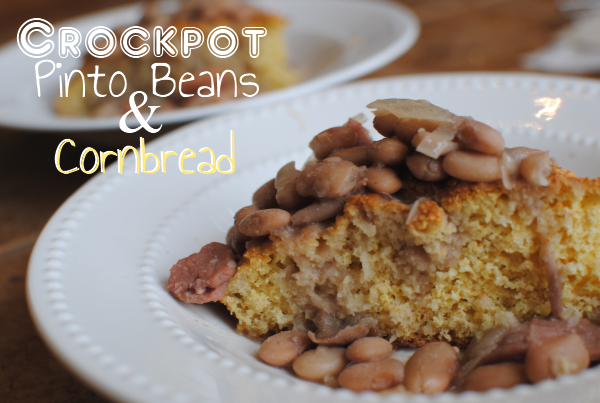 I want to start by pointing out that no, the cornbread is not cooked in the crockpot with the beans. Unfortunately, you'll have to do some hard labor and bake your cornbread in the oven. When I made this the other night, I found a new cornbread recipe and it is absolutely divine. It's so divine, that I plan on giving it it's very own post. So stay tuned for that.
As I was saying, this meal takes me back to those comforting nights as a kid. Coming in from playing outside all day to have warm, hearty pinto beans served with crusty cornbread. They make the most amazing combination. This isn't really even a "summer" dish, but I still make it in the summer anyways.
Start by soaking your bag of pinto beans in a big bowl overnight. This will soften them up and get them better prepared for cooking. This may sound like a difficult task, but really it's not. Place your beans in a bowl covered in water and go to bed. Easy peasy!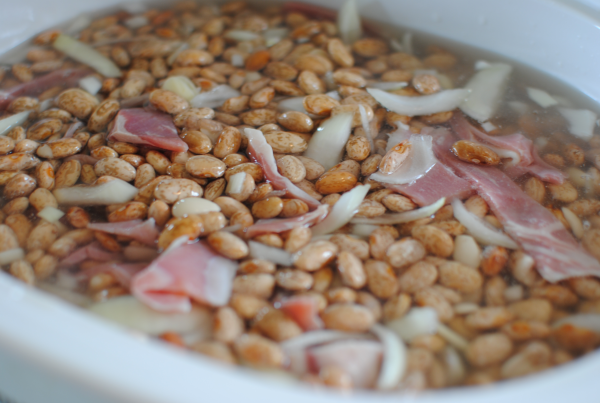 Then the next morning, drain that water and throw the beans in your crockpot with a chopped onion or two along with some nice and salty country ham pieces. DON'T season them yet. Since they are still quite hard, they won't absorb any of that seasoning just yet so hold off on that salt and pepper.
Oh yeah, you can see where this is going.
In the meantime, between checking your email and watching Grey's Anatomy (all that very important stuff that you do), bake up a batch of your favorite cornbread. Like I said, I have an amazing recipe that I will be sharing, but for now I have to leave you on the edge of your seat.
So bake that up and set it aside until your ready to eat up. You are now free to season the beans too!
After a few hours you'll have an incredible meal.
Crockpot Pinto Beans and Cornbread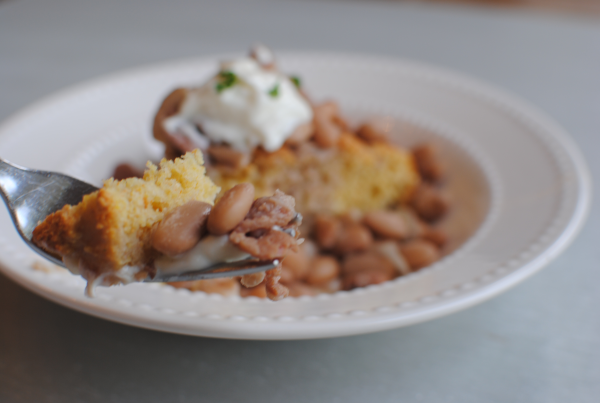 Hearty and comforting, pinto beans and cornbread make a match made in heaven.
Ingredients
1 Bag Dry Pinto Beans
1 Small Package Country Ham Pieces
2 Medium Onions, Chopped
1 Batch Cornbread (Your Choice)
Salt and Pepper to Taste
Method
The night before you plan to eat your meal, place your pinto beans in a large bowl and cover with water. Let sit overnight.
The next morning, drain beans and place in the crockpot along with chopped onions and country ham pieces. Fill crockpot with an inch or 2 of water above the beans. Let cook on low for 6-8 hours or high for 4-6 hours.
Meanwhile prepare your cornbread of choice. Season beans with salt and pepper once they have been cooking and their lines have disappeared.
To serve, pour beans over cornbread and let the juices soak in.
Notes
You'll notice that a couple of my pictures have sour cream on them. That was something new I was trying. Some people like sour cream on their pinto beans so I thought I'd try it out. It was eh to me. I could take it or leave it really.
Sometimes I even place my cornbread down in a mug and pour the beans over it in the mug. This is honestly one of the best ways to eat it!
http://www.pennywisecook.com/crockpot-pinto-beans-and-cornbread/
Like this post? SHARE it!