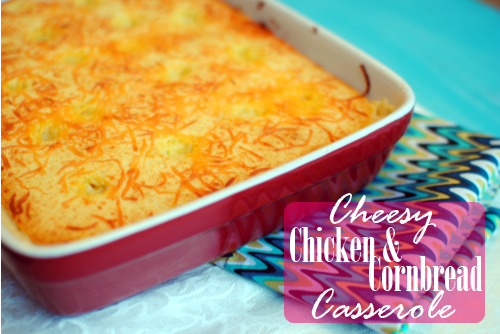 What is it about the word casserole? What exactly is a casserole? Let me consult The Google: a kind of stew or side dish that is cooked slowly in an oven. Though these days, almost anything can be considered a casserole. It doesn't even matter the ingredients, does it?
Have some tomatoes and potatoes? Throw them in a dish, bake and you have a tomato potato casserole! I think that's why I like casseroles so much. They are so forgiving. Well, most of them anyways. I've had my share of casserole failures… I just love that they are so simple and quick. Throw together what you have on-hand and bake at 350 degrees and you've got dinner. Casseroles were made for weeknights when momma has to grow a 3rd arm to get everything done. Who am I kidding? I grow my 3rd arm around 8am each day at breakfast…
Especially now that school has started, dinner isn't always first thing on my mind. School doesn't just mean the start of classes. It can also mean sports, extra-curriculars, homework, Bible study, and anything else that you can possible occupy lots of time with. My girls are still young so I'm not always a chicken with my head cut off, but I do have to say that 1st grade homework is no joke! It may not be hard, but keeping my 1st grader focused can be a chore.
Enough to build up an appetite…
For a casserole maybe?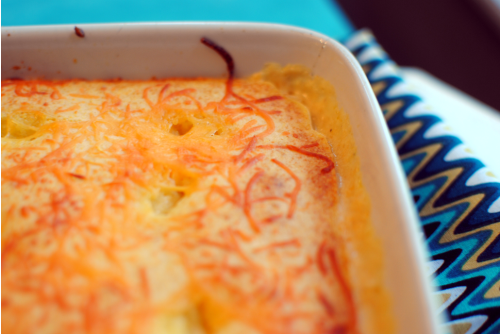 I've always been a fan of those casseroles where you top it with a bread of some sort. We always used to make the chili with the cornbread on top when we were newlyweds. I'm going to be honest here and admit that it was from a box, but don't judge. Who hasn't made a gourmet dinner from a box while they were a newlywed? I'm also going to admit that I use boxed meals here at least once a week. You can't have a 2 year-old and not make a little mac and cheese from a box. You just can't. Well I can't anyways.
Casseroles! Yes, casseroles. This one was a result of throwing together a lot of things that we really enjoy and doing everything that I could to avoid putting in those "cream of" soups". It seems like every casserole contains that ingredient.
Not this one! I used fresh chicken, but if you have leftover rotisserie chicken or perhaps some grilled chicken, this would be an awesome way to use it up. Otherwise whatever kinda chicken you can find on sale will work. I'm all about cheap. Though I'm not sure that the canned stuff…
You can find a ton of ideas for casseroles over at Country Crock. Some interesting facts about Country Crock:
Have 0g trans fat per serving
Contain no partially hydrogenated oils (Yipee!)
Have no cholesterol
Are 70% less fat than butter per serving (WOW)
Have 30% fewer calories than butter per serving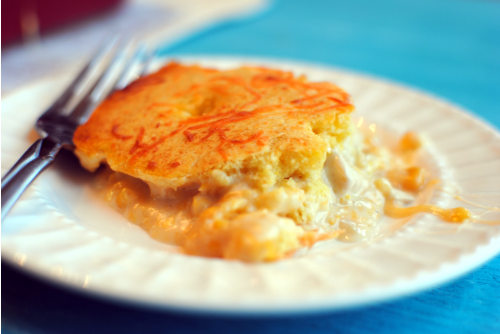 Cheesy Chicken and Cornbread Casserole
Recipe Type
:
Main Dish, Chicken
Author:
Who doesn't enjoy a simple and quick chicken casserole?
Ingredients
3/4 lb Chicken Breast/Tenders, cut into bite-size pieces (about 3 breasts)
1 tsp garlic, minced
1 tsp dried onion
1 tbsp olive oil
1 10.5 oz can cream corn
1 c. shredded cheddar cheese + 1/4. c for topping (if desired)
1 c. sour cream
1 tbsp butter, cut into small pieces for dotting the top (if desired)
cornbread mix created according to package
s & p to taste
Instructions
Preheat oven to degree listed on cornbread mix. Spray a 9×13 dish with non-stick cooking spray.
Heat olive oil in a skillet over medium high heat. Add in chicken, garlic, onion, and s&p. Cook until chicken is not longer pink.
Meanwhile, in a large bowl, combine cream corn, 1 c. cheddar cheese and sour cream until well mixed. Add in chicken. (Now would be a great time to create your cornbread batter!)
Pour mixture into 9×13 dish and spread evenly. Top with cornbread batter and spread evenly. Sprinkle with the other 1/4 c. cheddar cheese and dot with butter.
Place in oven and cook the time listed on your cornbread mix.
Remove from oven, let cool, and serve!
Notes
You are more than welcome to make your own cornbread for the top, just be sure to have the ingredients necessary when you start you casserole!
I used a slightly smaller dish than a 9×13 for mine. I can't tell you what size because I honestly have no idea, but I think that a 9×13 will be similar. If not, then a square dish might work. I have yet to try this in a different size dish.
I was selected for this opportunity as a member of Clever Girls Collective and the content and opinions expressed here are all my own.
Like this post? SHARE it!