Aside from my sweets, potatoes are my other downfall. Give them to me in any form possible and I will eat them happily. When I was pregnant with both my girls, I craved nothing but potatoes. All I wanted was fries, mashed potatoes, and mostly fully loaded potatoes. You know, the ones slathered in a pound of artery-clogging butter, a double donkey dollop of daisy, and of course massive amounts of cheddar cheese and bacon. There is just nothing that compares to this kind of happiness.
Besides cheesecake….
Which brings me to my epiphany. I sat there looking at leftover potatoes on my counter. I have a tendency to let them go bad so I vowed to use them up somehow, someway. And I always have cream cheese on-hand. I thought to myself, are there savory cheesecakes? And if so, are there loaded potato cheesecakes? I began a mission on "The Google" as my sister calls it, to see if there had ever been such a recipe. I mean come on, cream cheese makes mashed potatoes delicious so why not build the potatoes into the cream cheese and call it a savory cheesecake?
To my utmost surprise, I could not find a single recipe for Loaded Potato Cheesecake. What is the world thinking? Cue the gears a turnin in my noggin'. I got out my handy dandy notebook and began this recipe.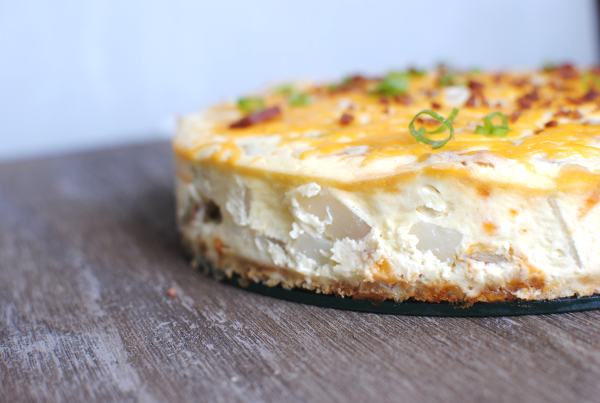 And what do you know? It actually turned out incredible!!! This simply doesn't happen to me on the first time y'all. It just doesn't.
Not me. Not ever.
I will try something 5-10 times before getting it right. I guess the moons have aligned and the kitchen gods decided to cut me some slack and save my sanity because this one turned out just right. One of my main concerns was the crust. I was so sure that it was going to end up really soggy. But no, It turned out just right and just makes each bite perfect.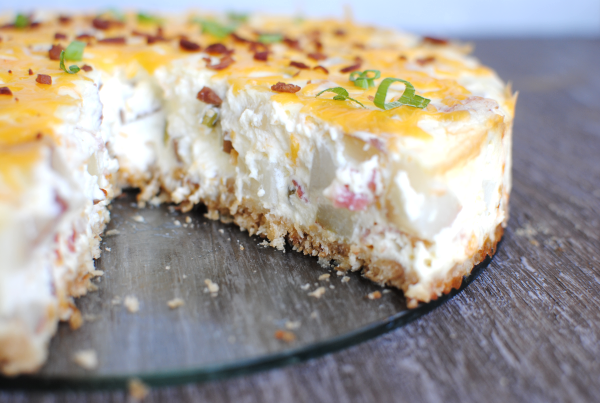 This may never happen again so enjoy!
Recipe Type:
Appetizer, Main, Vegetable
Author:
This savory dish is a great twist on everyday cheesecake. Impressive and tasty at the same time!
Ingredients
1 and 1/4 c. Ritz Crackers, Crushed
1/3 c. Shredded Cheddar Cheese + 1/2 c. + 1/4 c.
3 Tbsp Butter, Melted + Additional 2 Tbsp, Melted
2 Packages Reduced Fat Cream Cheese, Softened
3 Medium Red Potatoes (about 3 cups), washed, chopped into bite-size pieces and boiled until soft
1 c. Reduced Fat Sour Cream
2 Eggs, at Room Temp
3 Green Onions, Chopped
4 Pieces Bacon, Cooked and crumbled
Instructions
Preheat oven to 350 degrees.
In a small bowl combine Ritz Crackers, shredded cheese, and 3 tbsp melted butter. Press into a greased 9″ springform pan. Set aside.
Beat cream cheese until fluffy. Add in eggs one at a time, beating cream cheese after adding each egg.
Add in sour cream, salt, and 2 tbsp melted butter. Combine well. Gently fold in potatoes, green onions, bacon, and 1/2 c. shredded cheese.
Pour into pan. Bake at 350 degrees for 15 minutes. Then Reduce heat to 225 and bake for 1 hour and 15 minutes.
In the last 10 minutes, top with additional shredded cheese and allow to melt.
Cool and serve!
Notes
As you can see, I tried to lighten it up as much as I can. While some things just won't work in reduced fat form, this dish does not taste like it contains anything healthy at all!
It's a crowd pleaser for sure.
Like this post? SHARE it!