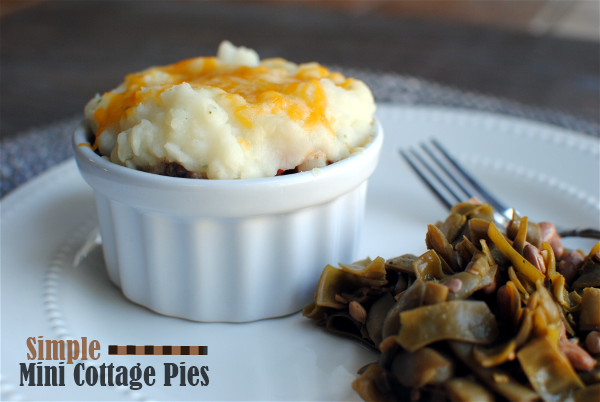 My husband and I went to England a few years ago. We indulged in all of the meals that you might associate with England like Fish 'N Chips, Bangers and Mash, and of course Shepherd's Pie. I think I was more excited to eat their food than I was to see the sites!
You may have heard of Shepherd's Pie here in the US and have most likely eaten it before. It's such an easy dish that almost anyone likes. But did you know that the term started out as Cottage Pie? Cottage Pie dates all the way back to 1791 when the potato was found to be an affordable option for poor folks to eat. They'd use whatever meat they had leftover and line the dish with mashed potatoes and then top it with them as well. Sound familiar? It wasn't until 1877 that folks started calling it Shepherd's Pie. (via Wikipedia) There are tons of variations on making this dish, but I wanted to share this easy one with you!
I've been making this for years. Probably not as often as I should, but when I do it's a hit!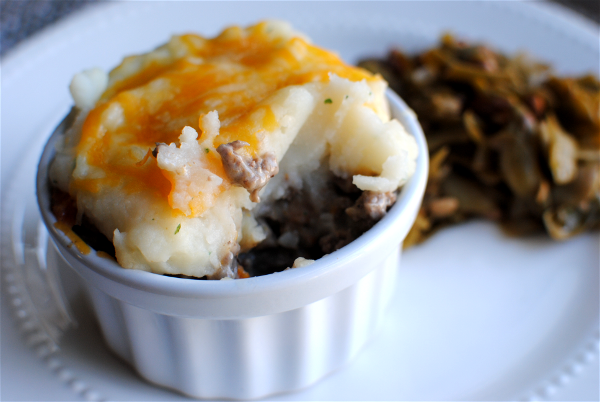 You guys know me and my healthification (technical word there) of my meals. In this one, I of course use ground turkey or extra lean ground beef, but I also wanted to work on portion control. When something is really good like Cottage Pie, you need a stopping point! Or at least I do…
I busted out my little souffle dishes to make these and it was the perfect individual amount. As a side note, I just realized that I've never made a souffle before. Challenge ACCEPTED!
Anywho, if you need a really easy dinner idea this week you should definitely consider this meal. Here's how to make them!
Simple Mini Cottage Pies
Author:
A simple way to change up your every day Shepherd's Pie. Try these super simple Cottage Pies!
Ingredients
1 lb Lean Ground Beef (or turkey)
1 Medium Onion, Chopped
1 can Mixed Vegetables (drained)
1 can Cream of Mushroom Soup
2 tsp Minced Garlic
1/2 tsp Dried Oregano
1 (4 serving) pkg Instant Mashed Potatoes cooked according to package
Salt and Pepper to Taste
1/2 c. Shredded Cheddar Cheese
Instructions
Preheat oven to 350°.
In a skillet over medium-high heat, brown the ground beef with onion until onions are translucent. Drain. Add minced garlic and cook until it becomes fragrant.
Add can of mixed veggies and can of cream of mushroom soup. Mix and cook until all is warmed through.
Place equal amounts of meat mixture into 4 or 5 ramekins. Top with equal amounts of mashed potatoes.
Sprinkle with cheese. Put ramekins on a baking sheet and place in the oven for 5-10 minutes or until cheese is melted. Serve!
Notes
You can add whatever kind of "cream of" soup that you'd like to these, but the mushroom version tastes wonderful. I think cream of celery would also make a good choice.
Depending on the size of your ramekins, you may need 5 of them.
And don't feel obligated to use instant mashed potatoes. It's a shortcut on busy nights for me, but when I have the time homemade tastes the best hands down!
Like this post? SHARE it!