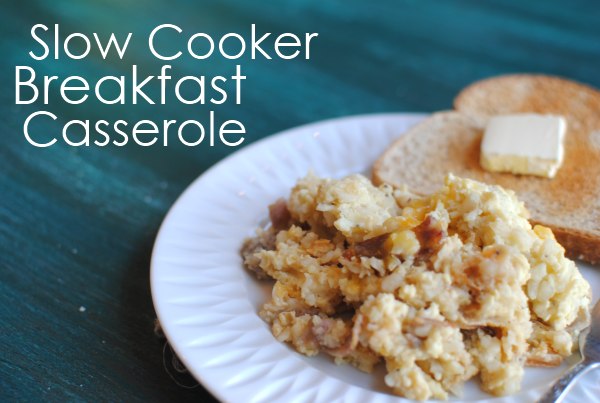 We've made it to Friday my friends! I start looking forward to Friday beginning on Monday, don't you?  I love Saturdays especially because there's no rush to wake up and you can eat breakfast whenever you prefer. It's always a good day of the week for a big breakfast since you can usually sit down as a family unit to eat without rushing off to work or school.
But who in the heck wants to slave over the skillet, or oven, or even microwave on a Saturday morning? Well that last one isn't that difficult, but I must admit that I find it a little laborious sometimes. 😉 That's when a slow cooker comes in handy. Making something up ahead of time to enjoy later is a win-win situation no matter how you look at it.
But for breakfast you say? Yep. Even breakfast. Your Christmas morning may never be the same again.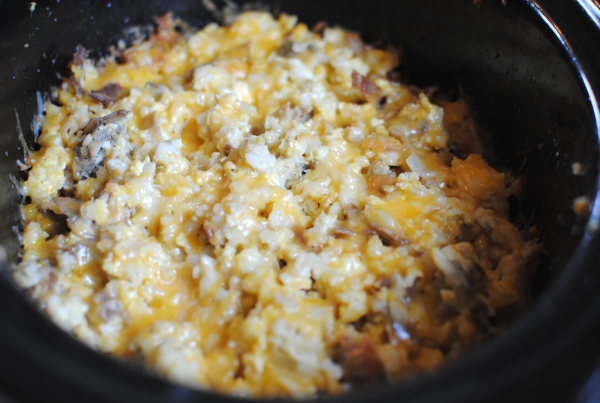 This is my version of a simple Slow Cooker Breakfast Casserole. This is made with things that I had on-hand. Very cheap to make and best of all, simple. My favorite part? It makes a TON! I'm able to make more than just 1 breakfast out of this which saves time and hassle for a few days to come.
I love Save-A-Lot's 10 for $10 sales. You can't go wrong with turkey bacon for a $1.You could also buy precooked bacon to make life easier if you're willing to shell out the extra dough. Otherwise, it's just a matter of cooking up the bacon before adding it to the crockpot.
Enjoy your weekend! I've got a special giveaway coming next week. I can't wait to share!
| | | |
| --- | --- | --- |
| Slow Cooker Breakfast Casserole | | |
Recipe Type:
Breakfast, Main Dish
Author:
Breakfast doesn't get any easier than creating it the night before and have it wait for YOU in the morning!
Ingredients
1 Package 24 oz Frozen Hashbrowns
1 c. Onions, Chopped
1 12 oz Package Sausage
10 Pieces Turkey Bacon, Chopped
12 Eggs, Scrambled
3 Tbsp Chicken Broth
1/4 Tsp Salt
1/4 Tsp Pepper
1 c. Shredded Cheddar Cheese
Instructions
In a skillet, cook onions, bacon, and sausage until no longer pink.
In slow cooker, place the hashbrowns and top with meat mixture.
In a large bowl, scramble eggs and add the chicken broth and s&p. Pour over hashbrowns and meat mixture in slow cooker.
Put lid on and cook on low for 4-6 hours. You can choose to stir it halfway through the cooking time if you prefer or leave it be. I did stir mine, but I think I'll leave it next time.
minutes or so until you plan to serve, sprinkle the shredded cheese over and replace the lid to let it melt.
Notes
If you're making this overnight, you might even use the "warm" setting on your slow cooker to avoid overcooking.
I made this during the day (to have breakfast for dinner) and did not cook my meats through before hand. Mine cooked for 8 hours and I stirred halfway through.
Like this post? SHARE it!