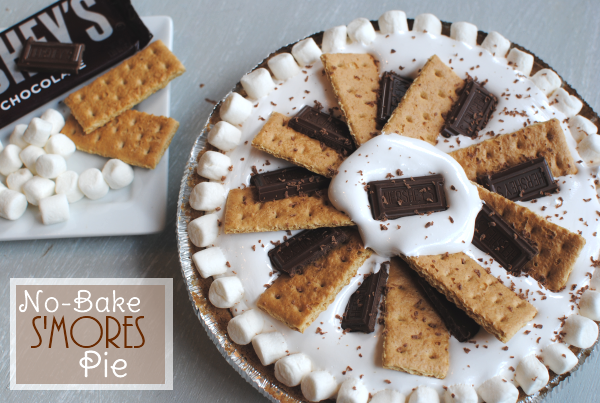 Fall is here! On our trip these past couple of weekends I noticed the trees a changin' and they are just beautiful. It was especially beautiful driving through the mountains in Chattanooga. I love looking down on huge valleys just covered in autumn-colored fall trees. Makes the drive more enjoyable for sure!
Along with the leaves falling and cooler weather, campfires are sure to follow! In fact, we're thinking about having a family night this weekend around our fire pit. The feel of cool, crisp air mixed with a crackling fire and marshmallows just can't be beat in the fall. And you can bet that some fall treats will be eaten! S'mores are my all-time favorite campfire food. I enjoy a roasted hot dog every now and then. And popcorn in those foil packages are fun, but s'mores are the real deal.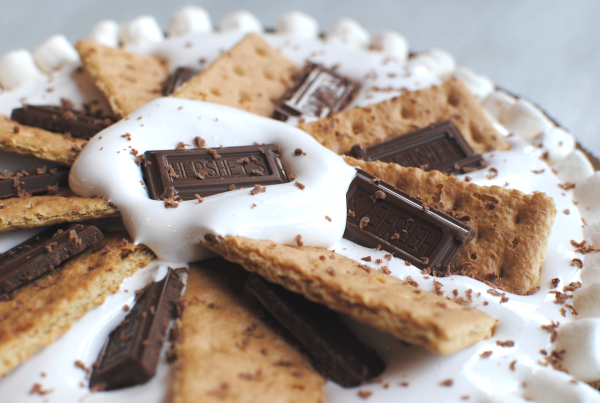 Even before the weather even pretended to cool off, I got a hankerin' for a s'more. Somehow, instead of creating just 1 s'more, I ended up creating this pie. That's ok. I'd rather have an entire pie than 1 s'more anyways.
So this pie is super simple. I wanted to make it a little better for you, so instead of using creams, I opted for a nonfat yogurt. Of course after using an entire bag of chocolate chips, it doesn't really matter. But hey, at least I make the effort right?
All the prettiness on the top is completely optional. I had just bought the ingredients for my s'more so I had them and thought why not make the pie look pretty? So depending on how pretty you make yours look, you're talking between 4 and 6 ingredients. Most of which are highly inexpensive and easy to work with. This pie would be a GREAT thing to bring to a cookout get together.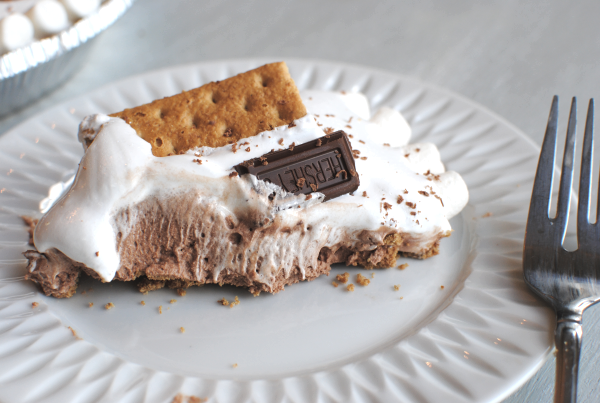 The one thing that I will point out is that the yogurt does give the chocolate filling a bit of a tang. Clearly this was my sacrifice for making something better for you. My daughter noticed this immediately, but it didn't bother my husband. If you think you might not like that, try using heavy cream instead. Should taste great and give the same type consistency.
Here's how to make it:
Author:
You don't have to make a fire to have s'mores! Try this easy pie to satisfy your craving!
Ingredients
1 Graham Cracker Crust (reduced fat)
1 Bag Semi-Sweet Chocolate Chips (12 oz)
1 c. Plain, Nonfat Yogurt (or heavy cream)
1 tub Marshmallow Cream
2 c. Mini-marshmallows- Optional
5 Graham Crackers for Topping- Optional
1 Hershey Bar for Topping- Optional
Instructions
In a large microwavable bowl, place the chocolate chips and 1 cup yogurt. Microwave on 50% power for 5 minutes. Remove and jiggle the bowl getting the chocolate chips to move around without stirring. Return to microwave and heat on 100% powder in 15-30 second increments until the chips begin to melt. Stir until smooth. Place in the refrigerator for at least 1 hour- 2 hours.
Chocolate mixture should be cold. Place in a mixing bowl and whip until the chocolate turns a light brown color. Whip for about 5 minutes on high. Pour into graham cracker crust.
Top with marshmallow cream (though you may not need the entire tub). Top with chocolate pieces and graham crackers if you wish and line the outside with mini marshmallows.
Like this post? SHARE it!