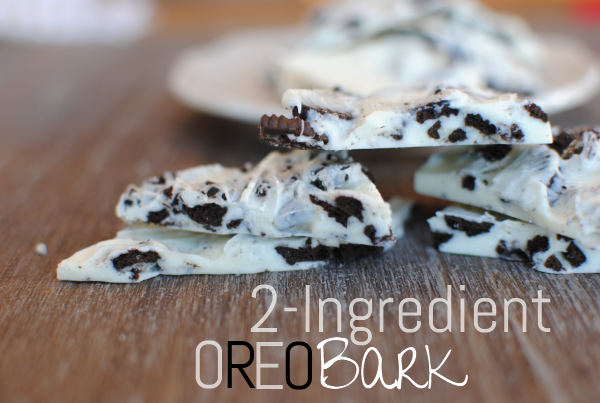 How did your family do with the time change? Everyone enjoy their extra hour of sleep at your place? With 2 girls under 5, there was no extra hour of sleep here. They just don't cherish that hour like we do. I even had a conversation with my 5 year old the other night about how mommy and daddy like sleep. She just couldn't grasp why we would enjoy wasting so much time with our eyes closed. That whole conversation was a lost cause. It never really went anywhere and contained no resolution for her.
Sometimes it's better to just not try and explain things to a 5 year old, huh?
Last week, I had a hankering for something Oreo. I can't ever bring myself to actually indulge in eating oreos, but I do like to make things containing them. Go figure. I had a package of white chocolate chips in the pantry and some individual packages of Oreos.
Can you say simple? That's all that I needed to make this incredibly tasty candy bark. It took literally minutes to make and satisfied my Oreo hankering times 2.
I found myself eating so much of it that I sent it to work with the hubby. That's my secret weapon, y'all. You notice sometimes I don't always make "healthy" things. Those are usually the ones that I try to send away to a friend or to work with hubby.
It all starts with a cookie sheet covered in wax paper. Crumble up about 12 or so Oreos and lay them around the cookie sheet. Melt up your white chocolate chips and pour them over the Oreos. Smooth out and place in the freezer for about 10 minutes or so and YOU'RE DONE.
Does it get any easier?
This, my friends, would make a fantastic food gift for Christmas! Simple wrap it up in a fancy tin or treat bag and tie with a Christmas bow and you have one cheap and cheerful gift!
Who wouldn't enjoy Oreo Bark?
Recipe Type:
Dessert, Snack
Author:
With only 2 simple ingredients, you can make a Christmas gift or tasty snack within minutes!
Ingredients
12 or so Oreos (Crumbled)
1 (12 oz) Package White Chocolate Chips
Instructions
Line a cookie sheet with wax paper. Spread the crumbled Oreos around the sheet.
Melt entire bag of white chocolate chips according to the package or in a double boiler.
Once melted pour over the Oreo pieces and smooth out. Place cookie sheet in freezer for about 10 minutes and then break into pieces.
Notes
If you don't have a double boiler to melt your chocolate chips, just use two sauce pans. Place hot water in the bottom one and the chocolate chips in the top. Bring the water to a rolling boil and melt the chips.
Like this post? SHARE it!