I have been dying to share this stuff with you for weeks, but just haven't had a moment to sit down and get it all together. Is it just me or is time beginning to move faster and faster? I barely have time to finish a thought before I move on to my next one. And with the holidays quickly approaching , things are sure to get even faster.
One of my dear friends is expecting a little bundle of joy next month and when it came to her baby shower, I knew that I wanted to be the one to throw it. This, ahem, was my very first shower to throw. I've helped out with others and attended plenty, but I've never had one here at my home. So naturally, I wanted it to be perfect.
Well….as perfect as one can be with an 18 month-old and 5 year-old running around while preparing. I can't complain. They were both angels the entire time that I put this together. And thankfully, another friend of mine helped out with food and planning so it wasn't ALL me. Sheesh, I think I'd go nuts if it was!
So I thought I'd share with you a few of the frugal touches that I used to make this shower special for my friend. At this point, I've only included pictures, but I do have some pictures for a tutorial if anyone is interested. Just let me know!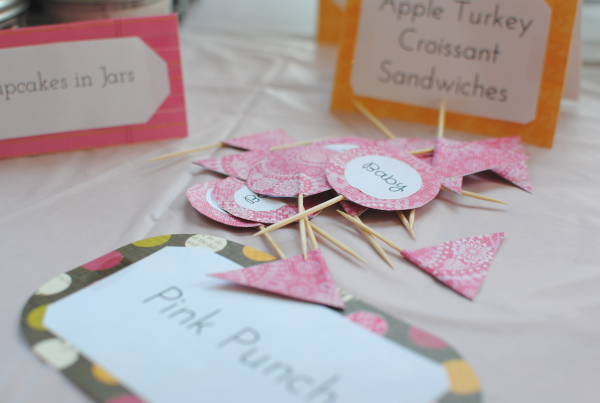 The first thing that I did was to make up these adorable little food tags and cupcake flags. SUPER cheap to make. Don't you DARE go and buy them! Especially if you're a scrapper, chances are that you have some extra scrapbook paper. And that, my friends, is a party planner's best friend.
I did buy a new set of scrapbook paper with assorted colors for $5. It covered the entire party. I was able to make markers for all of the dishes and snacks along with the super cute cupcake flags.
I simply printed out the words with cute font on my printer, cut them out, and attached them with tape to the scrapbook paper. The food markers were folded in half so they stood up.
All in all this only cost me the $5 for the paper.
I even made a cute little tag for the party games that we played. I used an old pickle jar to hold the words and just tied a cute little bow around it to dress it up.
This didn't cost me anything!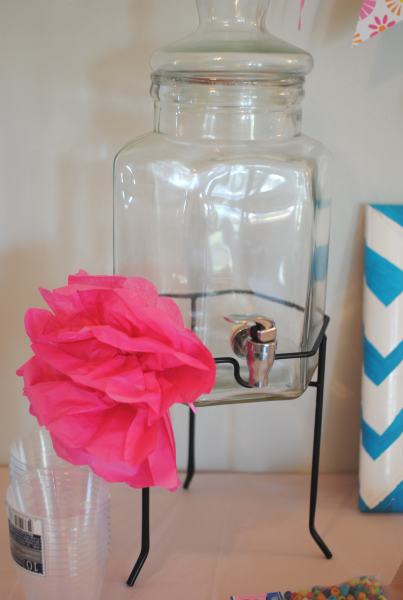 I picked up some hot pink tissue paper at Walmart for $.97 and made up a few of these tissue flowers to make a few decorations. It looked really cute attached to the punch.
Ok, don't judge me but I had a lot of time on my hands. My husband went out of town and I ended up writing a poem.
Yeah, yeah, I'm a little overachiever.
It was SO cute though. I dropped into Dollar Tree and got a frame that I painted with pink paint that I already had. Printed the poem out and attached to scrapbook paper to make a nice addition to the shower table.
$1 added to the cost.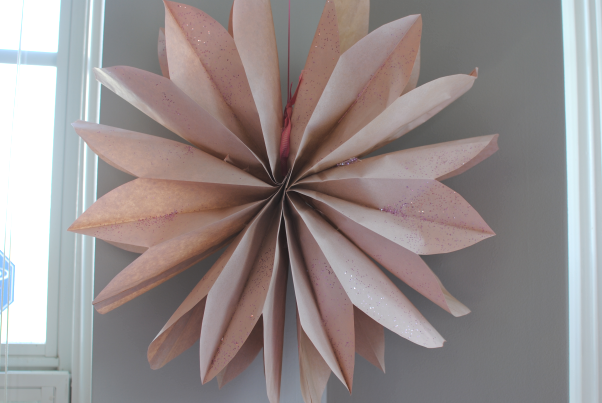 I found a tutorial on how to make a brown bag flower decoration on Pinterest and I HAD to try it. I always have brown bags on-hand.
In like 5 minutes flat, I had this darling flower that I simply spray painted and added a little glitter to. I tied it the ceiling and voila!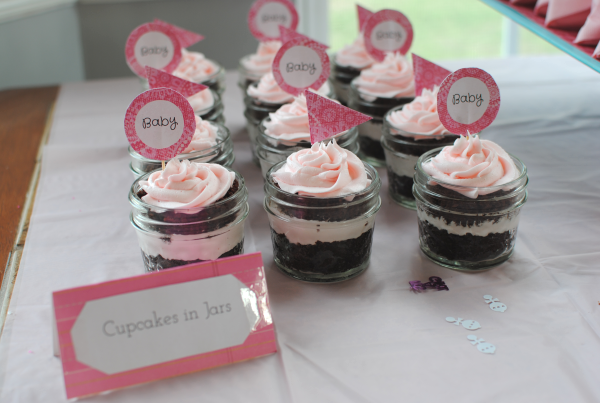 At some point in time, I have become obsessed with food in jars. I know I'm a little late on that, but I'm only human and my brain takes a little longer to process than most. 😉
I made cupcakes regularly in a muffin pan. Then I cut them in half placing the bottom layer in the bottom of a 4 oz jar. Added frosting, then added the 2nd layer. I then topped them once again with more frosting. These were homemade devil's food and vanilla buttercream cupcakes and they were AMAZING.
Don't the flags add a nice touch?
I did buy the jars just for this event, but they will be around for use later on so I'm considering them to pay for themselves. But since I did buy them, we'll add $7.97 to our total.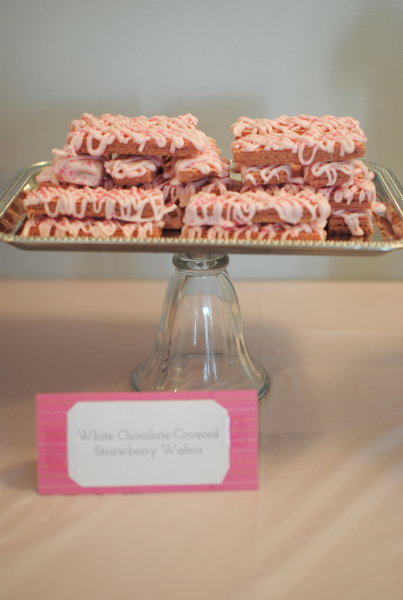 These White Chocolate Covered Strawberry Wafers were so easy, but looked like a million bucks. I bought them at Dollar Tree. I tinted some white chocolate chips pink and drizzled it along with some sprinkles all over. Snazzy huh?
$2.29 was all that they cost me.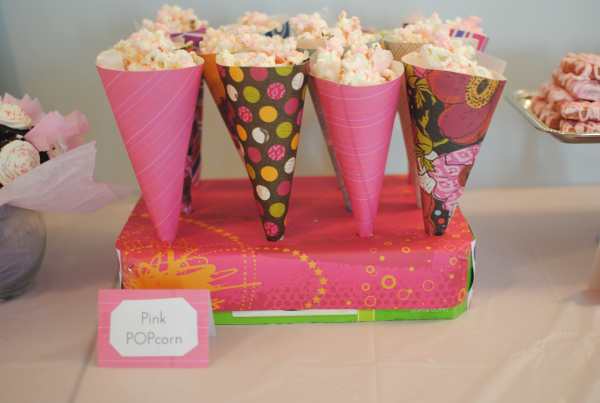 With all the scrapbook paper that I had, I knew I wanted to serve some things in cones. I simply rolled up the scrapbook paper cut to size and then taped them in place. The box they are standing up in? Oh, it's the box from the 4 oz mason jars! I used a knife to poke holes in it so the cones could stand up.
I made up some popcorn that I already had and drizzled in pink tinted white chocolate to it all. It came out to be super tasty Pink Popcorn! I even added pink sprinkles too.
Total cost for this was $1.29 for the white chocolate chips. Aldi has the BEST price y'all!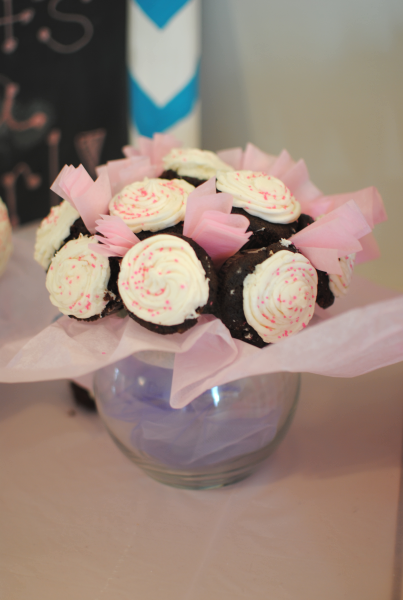 I made these mini cupcake bouquets with the help from Dollar Tree. I got 2 vases and used 2 foam flower arrangement thingies (that's a technical term) to place toothpicks in. The bottom is a couple of small pieces of tulle that I had on-hand to dress them up. I then made my cupcakes and stuck them all over onto the toothpicks.
I also added a few pieces of tissue here and there to fill it out.
Total cost for these was $4.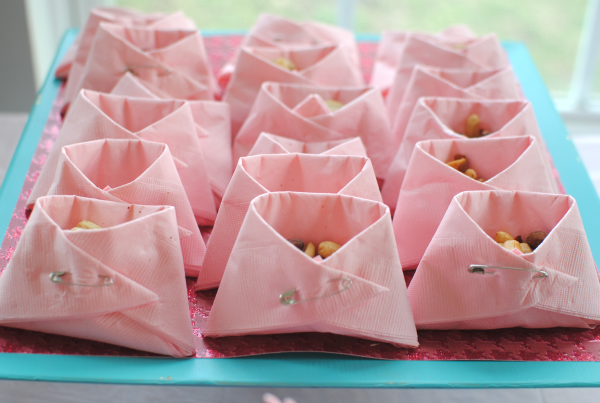 Of all the elements to this shower, THESE were my favorite. I saw a picture of these somewhere out in cyberspace recently and decided to give them a go. Without even glancing at the directions, I was able to whip up 25 of these in no time at all.
All you need is a package of napkins (your choice of color) and the appopriate amount of safety pins. SO easy and they make any treat that you're serving look completely adorable. Obviously the smaller your napkins, the smaller your little diapers so buy the size according to what you are going to serve in them.
These also make awesome party favor bags!
Total cost for these? $2.
I also made a small diaper cake as you see in the upper right that was about $6 for the diapers. I made a coffee filter flower for the top. And the little name plaque with baby's name on it was just $.97 at Walmart! I had the paint already.
Many of the little cupcake and serving stands that you see I made out of saucers and dessert cups that I hot-glued to each other. I get a lot of those materials at thrift stores and then paint to make them cute. So affordable and look so fancy.
All in all, what you see here cost me only around $30. And every bit of it was special because it was made with love and thought. That's always the best gift!
What about you? Are you throwing a baby shower soon? Have any frugal baby shower tips to share?!
Like this post? SHARE it!