This post brought to you by Luvs®. The content and opinions expressed below are that of Pennywise Cook.
Let's cut the crap. Or contain it anyways. Like inside a diaper. A good one.
I remember when I was a new mom I had absolutely NO clue what a good diaper was. There were so many brands, price points, absorbency options, sizes, stretches, and the list goes on. How in the world is a mom really supposed to pick a brand? For me it all came down to 2 things:
1) Price. You know me. I'm all about the best quality at the best price.
2) Quality. That's something that you just can't skimp on when it comes to diapers. I mean, who wants to be awoken in the middle of the night with a screaming baby who is flooded in pee? Not me!
So with those two things in mind, I obviously went to the experts to help me decide. It wasn't commercials. It wasn't coupons. It wasn't my baby book that suggested a great diaper. It was OTHER MOMS! They are the ones deep in the diaper-changing trenches trying them all out to find what works for them. Most of the ones that I talked with agreed that Luvs® were the best! They ticked both of my boxes. That's where my luuuuuuuv for Luvs® began. I became what you might call a loyal Luvs® lover. Both of my girls are Luvs® babies. They are super absorbent. No joke. We have had some doozies at my house. For real.
What about you? Have you tried Luvs® before?
Do you know about The Luvs® Club Loyalty Program? Well, let me just tell you about it in case you haven't!
It's FREE to join.

Members receive the latest Luvs® offers and savings (coupons!).

They also have baby-related news, helpful tips, and articles for your parenting enjoyment and info.

You will be entered into the Luvs® Club Sweepstakes for a chance to win a $1000 gift card!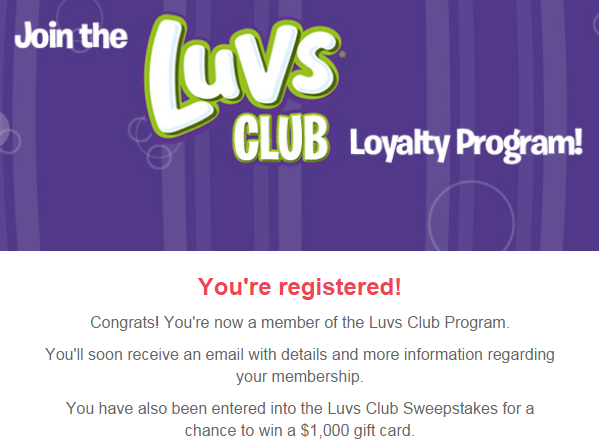 I signed up and it took me literally about a minute! Register for the #LuvsClub so that you can be entered the Luvs® Club Sweepstakes and be entered for a chance to win a $1000 gift card! Think about all the diapers you could buy with that.
The drawing will be held April of 2015.
Like this post? SHARE it!