There are two things that you'll notice right off the bat about the picture above. 1) That it's pizza and 2) there are strawberries on that pizza! But the one thing you won't exactly pick up from that picture is that crust isn't just any crust.
It's COOKIE.
Yes, we're talking a soft and sweet tasty cookie to make the base for this incredible dessert pizza. And who needs tomato sauce when you can have a vanilla cream cheese sauce on top of your cookie crust? And instead of anchovies or ridiculous pepperoni, let's top it with strawberries and then drizzle those with creamy chocolate ganache shall we?
And the next step is to make sure to alert the others in your household that it's there. Otherwise you might find yourself eating this entire pizza yourself.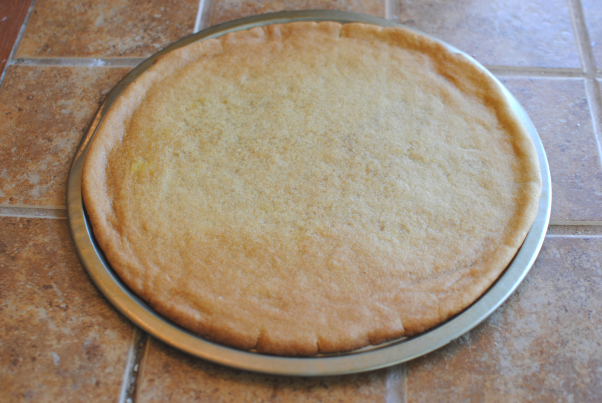 It all starts with something extremely easy, (dare I say) store-bought sugar cookie dough. I got lazy and this whole idea came to me when I was staring at the cookie dough section at the store. So feel free to make yours from scratch if you wish. I'm sure it will make it all that much tastier.
Simply place it onto a pizza pan and flatten away. Bake it according to the directions on the package or your recipe, you overachiever. 😉 I left mine just a tad bit soft so that it would still have some give similar to breaded crust.
Then using a spoon that you've clearly been licking, spread the yummy vanilla cream cheese onto your crust.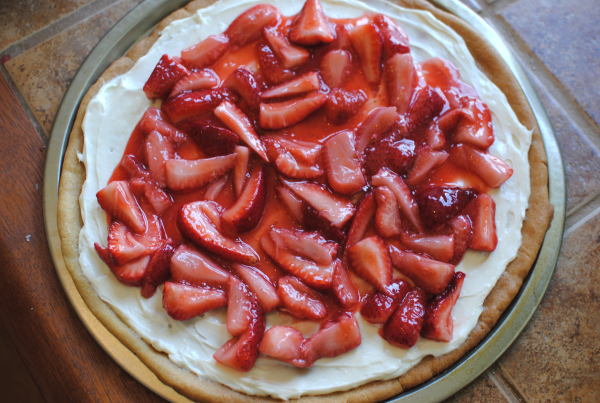 After making up your strawberry sauce, spoon it onto your cream cheese and get ready for the chocolate baby.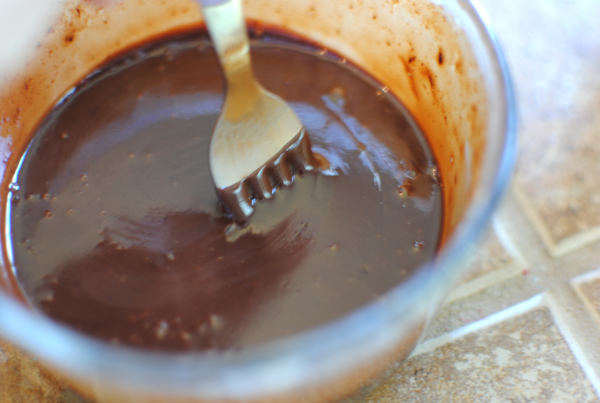 This chocolate ganache is as simple as it gets. Cream and semi-sweet chocolate chips are a match made in heaven. Drizzled over strawberries on this pizza, they are heavenly for sure.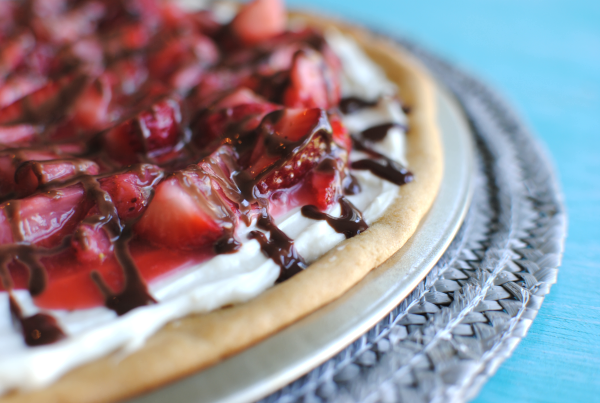 Do you see what I'm talking about? It just doesn't get any better than this.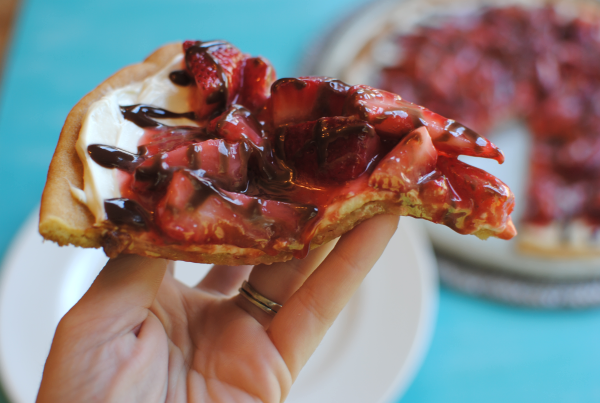 Well maybe it does. If you had a piece like this in your hand! Check out Aldi and their strawberry deals. They always have them cheap!
| | | |
| --- | --- | --- |
| Chocolate-Covered Strawberry Pizza | | |
Recipe Type:
Dessert, Pizza
Author:
Pizza isn't just dinner anymore, it's dessert too!
Ingredients
1 Package Sugar Cookie Dough
2 Cups Capped, Hulled, and Chopped Stawberries
1 8 oz Package Cream Cheese (I use 1/3 less fat kind)- Softened
1/2 Cup Splenda + 1 and 1/2 Tbsp Splenda
1/2 Cup Heavy Cream
1/4 Semi-Sweet Chocolate Chips
2 Tbsp Water
1 Tsp Cornstarch
1/2 Tsp Vanilla Extract
Instructions
Prepare cookie dough according to directions, but place on pizza pan to cook. Let cool.
Meanwhile, whip cream cheese, vanilla, and 1/2 c. Splenda together. Spread onto cooled cookie crust.
In a small saucepan, combine 1 and 1/2 tbsp Splenda, strawberries, water, and cornstarch. Bring to boil, then simmer for 5-6 minutes. Let cool.
Pour over cream cheese taking care to not cover the entire cream cheese area.
In a microwave safe dish, heat cream for 1 minute or until boiling. Place chocolate chips in cream and let sit for 2 minutes. Begin to shake the bowl allowing the chips to begin to melt. Don't stir just yet. Microwave another minute, then stir together. Allow to cool for a bit.
Drizzle chocolate over pizza. Cut into slices and serve!
Keep refrigerated.
Like this post? SHARE it!