Happy Friday! This weekend is my husband and I's 6th anniversary so we are headed out on a special little trip together. No kids allowed! We are so excited to have some time together as life gets so hectic these days. It's going to be so nice to have an entire couple of days to reconnect. I'm actually quite giddy about it!
I've told you before about my fear of frying things. Whenever humanly possible I will bake something in place of frying to make it healthier. I mean if you have achieve the same general flavor and composition, what's the use in all that unnecessary oil? One thing that I've always loved even since I was a kid was chicken nuggets. Who doesn't like chicken nuggets?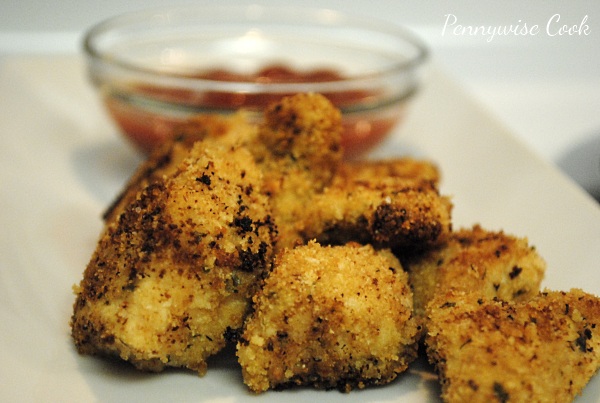 The chicken…in the form of a nugget…you just can't beat that. I've made some pretty darn amazing chicken tenders in the past, but never tried the smaller bite-size nuggets before.  Why you ask? I have no earthly idea. In fact when I came across this recipe, it really made me wonder to myself why I hadn't tried chicken nuggets before. It was well worth the wait though. These baked chicken nuggets came out crispy  and yummy. It's so nice to eat a chicken nugget and know exactly what is inside of it. 😉
If you have never tried to make your own nuggets before, I encourage you to try this one. The one suggestion that I do have with this recipe is not to fiddle with the chicken too much until they are done. You do have to turn them over during the baking process, but I wouldn't give them too much of a jolt as the breading tries to come off when they aren't done yet.
Very simple recipe with things you might already have laying around the house. And since they aren't fried and aren't coated in thick batter, they are actually very healthy too! These would go really awesome along side some Crispy Homemade Oven Fries!
Recipe from SkinnyTaste.com
Crispy Oven Baked Chicken Nuggets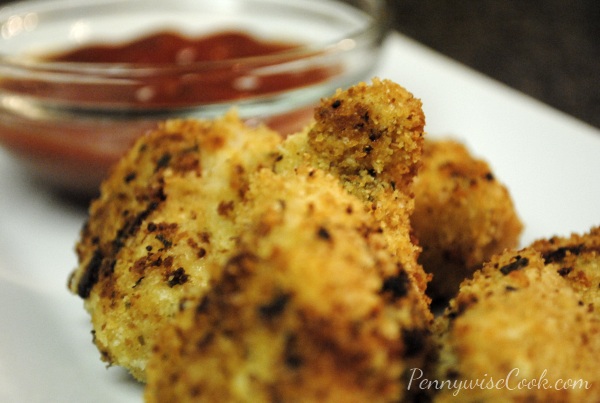 Don't fight the chicken nugget cravings! Just make them better for you. Try these Crispy Oven Baked Chicken Nuggets!
Ingredients
1 lb Boneless, Skinless Chicken Breasts (About 2 Large), Cut into Bite-size Pieces
Salt and Pepper to Taste
2 Tbsp Olive Oil
6 Tbsp Whole Wheat Bread Crumbs (I used Regular Italian)
2 Tbsp Panko Bread Crumbs
2 Tbsp Grated Parmesan Cheese
Cooking Spray
Method
Preheat oven to 425 degrees.
Place olive oil in one bowl and the breadcrumbs, panko, and parmesan cheese in another.
Season the chicken with salt and pepper then place in the bowl with olive oil and coat each piece well.
Put a few pieces of the chicken in the breadcrumb mixture a time and toss. Place on baking sheet.
Lightly spray the tops of the nuggets with cooking or olive oil spray. Bake for 8- 10 minutes then turn and cook for another 4-5 minutes.
Notes
When you're flipping them, just be sure to be extra careful. The breading will easily come off before they start to crisp.
http://www.pennywisecook.com/crispy-oven-baked-chicken-nuggets/
Kids just love these so much. My Addie is a chicken nugget connoisseur (she likes to think) and she thoroughly approves!
Let me know if you make these and how they turn out!
Like this post? SHARE it!