I was busy making up cookies for Addie's 5th birthday last week. Which by the way, I am still in shock that I have a 5 year-old. Doesn't seem possible that she is already that big. I'm going to try to get over it and not have a mini meltdown. Instead, I'll just eat a SUGAR COOKIE BOWL full of ice cream! I got the idea from this picture. Pretty self explanatory.
Yeah, it's quite an epiphany. Eating ice cream out of a cookie? I'm totally down with that. I think the only thing better than that would be eating ice cream out of a brownie. Hmmm, I'm getting ideas….
It's best to have a good batch of sugar cookie dough to use. I found the BEST recipe last week and it worked like a charm. You simply lay the dough over the muffin tin cups and bake as usual.
You can also cut the dough using the top of a glass to get a perfect circle. Or you can just wing it like I did. I even had to patch a few up. It didn't matter though because they still baked up fine.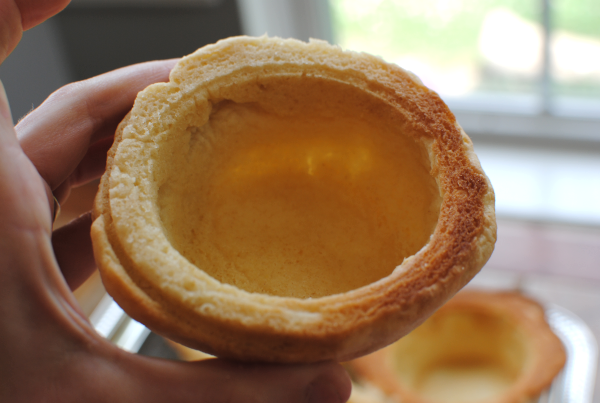 Tah dah! Oh yeah, it's a bowl that's a sugar cookie. Incredible isn't it? This is where you place your ice cream…
Or even fruit if you're being good….
Sugar Cookie recipe courtesy of Spark People.
Sugar Cookie Ice Cream Bowls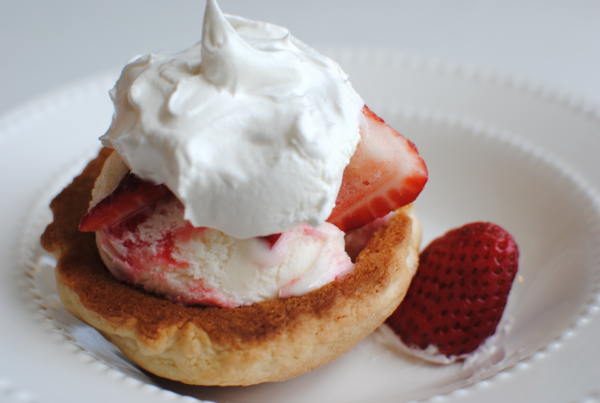 Eat your ice cream out of a sugar cookie!
Ingredients
1 1/2 cups - granulated sugar
2/3 cup - butter (or shortening - half of each is recommended)
2 whole eggs
2 Tbsp - 2% milk
1 tsp. - vanilla extract
3 1/4 cups - white flour
2 1/2 tsp - baking powder
1/2 tsp - salt
Method
Cream butter and sugar together in a large bowl. Add eggs, extract, and milk and mix well.
Mix dry ingredients with a wire wisk in a medium bowl. Add dry ingredients to wet ingredients in large bowl. Mix until combined well.
With hands, shape dough into a ball. Wrap with plastic wrap and refrigerate for 2-3 hours.
Meanwhile, preheat oven to 400 degrees F.
Lightly grease muffin tins. Roll half or 1/3 of the dough at a time on a floured surface. Keep the rest in the fridge.
Roll dough to 1/8-1/4 inch thick.
Flour a glass or cup and cut shapes. Re-roll trimmings and reshape. Place over muffin tin wells making sure to cover the whole thing with no holes.
Bake for 8 min or until light brown.
Notes
You are free to use whatever sugar cookies your prefer, even store bought. I just found this recipe to be really great to molding and rolling.
It's not a bad idea to make your dough the night before and roll it out in the morning. The colder it is, the easier it is to work with.
This works with chocolate chip cookie dough too!
This recipe makes a LOT of dough (like 72 cookies depending on your size) so if you only plan on making a few, half this recipe.
http://www.pennywisecook.com/sugar-cookie-ice-cream-bowls/
Like this post? SHARE it!