Thanksgiving is in TWO days! This year has just flown by. Have you finished all your big feast shopping? I sure hope so, because the stores are nuts about now. I was in a few stores the other day and just gave up. You know those trips to the store when you have only a couple of items. Then you get in line only to realize that for those 2 items you'll have to wait in line for 20 minutes. That's about the time that I start to justify whether or not it's absolutely necessary that I get those items.
I usually just give up.
I wanted to share with you guys these awesomely yummy treats that I made the other day. When I'm feeling experimental, I pick up things I think might go well together and then kinda throw it together. As you know, sometimes it works well and other times, well, it completely bombs.
I'm human and a novice cook, so what can I say?
So this is why I was so very happy when these tasty Butterscotch Pretzel Treats turned out so yummy! So easy with just 4 simple ingredients and they take literally minutes to make.
They resemble that of rice krispie treats, but I used pretzels instead of the rice krispies. And oh did that make them yummy. I just love the hint of salty that  you get with these sweet treats.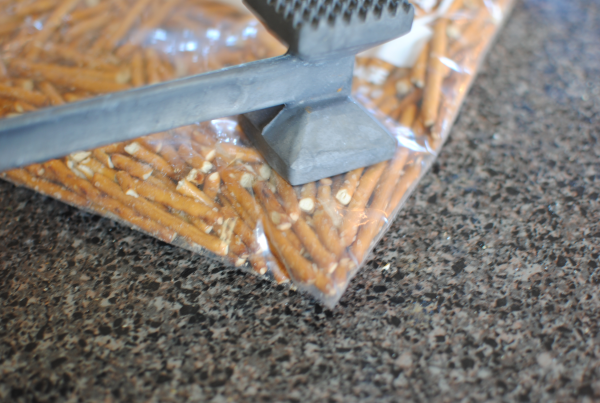 The first thing you want to do is get all of the pretzels out of the bag. The reason that I want to unscore pretzels is because the bag tends to have a ton of salt at the bottom, so don't just pour the entire bag of pretzels into your ziploc. Use your hand to get them out leaving all the salt at the bottom of the bag.
Use meat mallet or something heavy to break up the pretzels a bit.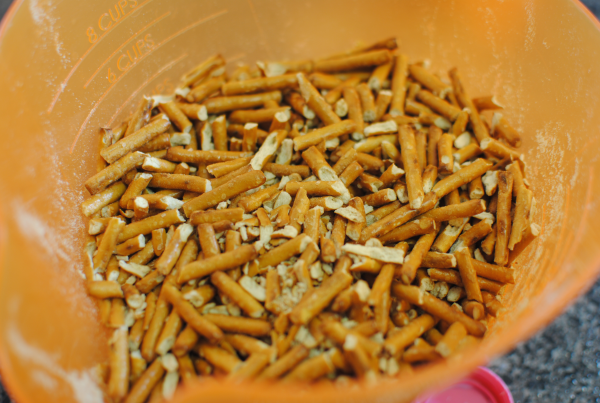 It's really not essential that you make them super small. Just get them fairly broken and be done. Put them in a bowl.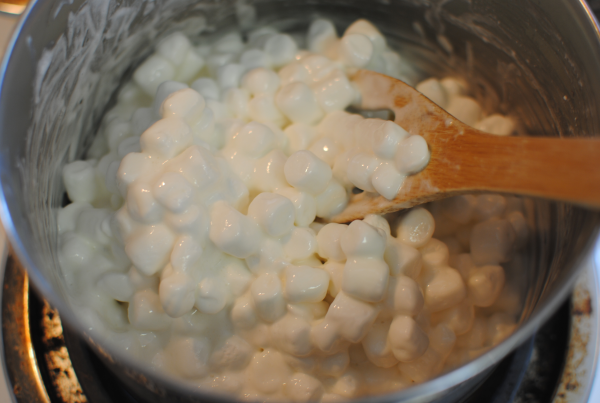 Then it's time to melt up your marshmallows with a little bit of milk. This may be the longest step in the whole process.
Pour the melted marshmallows in with the pretzels and use your spoon to mix it all up really well. There tends to be pretzel crumbs at the bottom, so make sure to incorporate those too.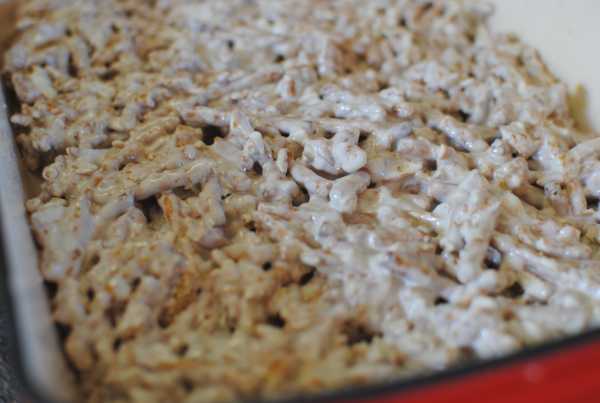 Pour it all into a greased 9×13 dish and flatten out. Set that aside while you get the butterscotch going.
Using your preferred method, melt the butterscotch chips until smooth. Some people feel comfortable using the microwave, but I'm not good at that so I always use a make-shift double boiler for this.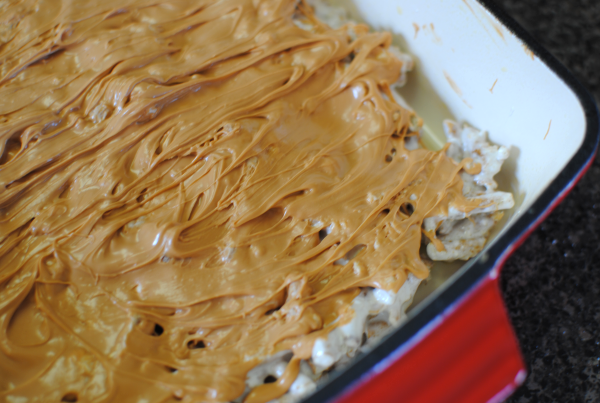 Pour the melted chips over the marshmallowey pretzels and place in the refrigerator to set.
Cut into bars and serve! It's so easy to make these and they are SO good. A nice little change from your everyday rice krispie treats, don't ya think?
| | | |
| --- | --- | --- |
| Butterscotch Pretzel Treats | | |
Recipe Type:
Dessert, Snack
Author:
With only 4 ingredients, these Butterscotch Pretzel Bars and easy AND incredibly yummy!
Ingredients
1 12 oz Package Butterscotch Chips
1 12 oz Package Pretzel Sticks
1 10 oz Package Mini Marshmallows
2 Tbsp Milk
Instructions
Remove the pretzels from their bag and transfer to a large ziploc bag. Make sure to use your hands to remove them and not pour the entire bag in. This will avoid getting all of the salt into your treats.
Using something heavy, break the pretzels inside the ziploc until fairly small. Pour into a mixing bowl.
Place the milk into a large saucepan. Pour in marshmallows and melt over medium heat until smooth.
Pour the marshmallows into the pretzels and combine well. Making sure to get the pretzel crumbs incorporated well. Pour into a greased 9×13 dish and flatten with the back of a wooden spoon.
Meanwhile, melt bag of butterscotch chips in microwave or over a double boiler until smooth. Pour over pretzel mixture and spread completely over top.
Place in refrigerator to set. Cut into bars and serve!
Like this post? SHARE it!