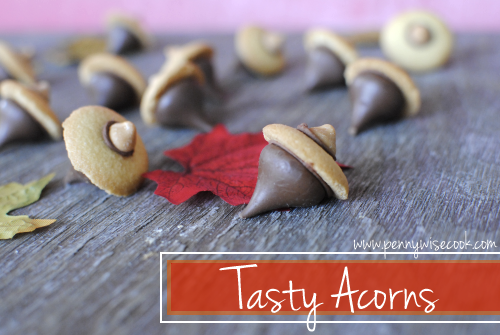 I just about had a fit when I started to put this post together because my SD card decided that it wanted to be corrupted and not let me have access to my pictures. But you know what? I showed it who is boss and it eventually gave me my pictures. So you can see the beauty of these adorable little fall treats!
Today is the very last day of summer did you know that? Can you believe that? I sure can! And I'm completely ready for fires and everything cozy. I love fall wardrobes. Everything gets covered up, tucked in, and just more comfortable. Less intense and less need to be in shape.
So you can eat chocolate, right?! Aren't these acorns just the cutest little fall treats? They are so easy to make and adorable to just set around for a treat. Not to mention that they taste amazing. Anything with a Hershey Kiss on it is going to make your mouth happy.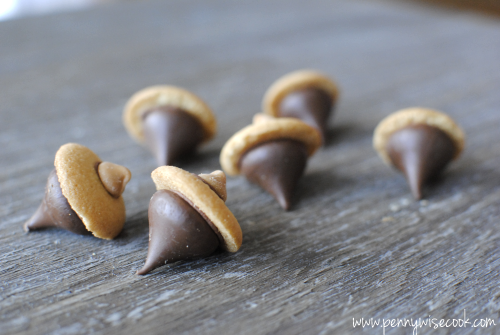 I made a bunch of these one night and it took me no time at all. Such a fun craft for the kids to enjoy with you. And because it's so easy you can just let them take over! Just don't let them eat too many before bed or they may never sleep. Again…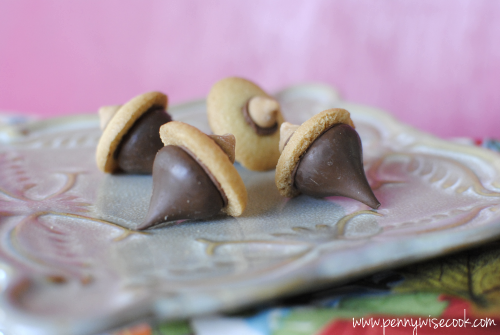 I didn't put together step by step pictures for you because this one is easy enough. If you have questions please don't hesitate to ask!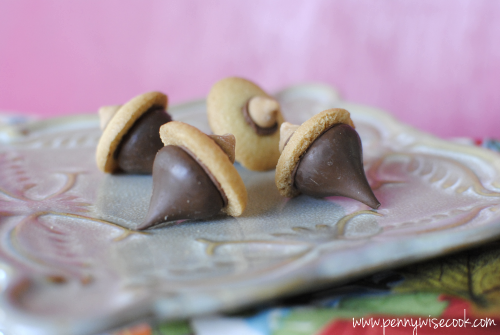 Tasty Acorns
2014-09-22 12:55:59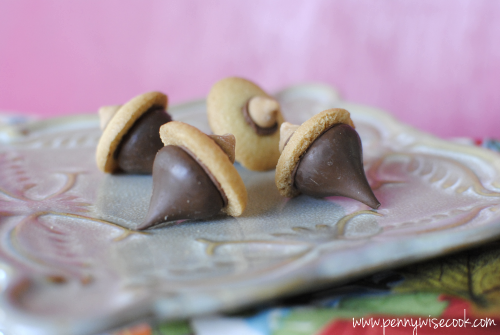 With a few simple ingredients you can make tasty and edible acorns for the fall!
Ingredients
Hershey Kisses
Mini Vanilla Wafers
Butterscotch Morsels
Chocolate Frosting
Instructions
Begin by placing a teensy bit of frosting in the middle on the bottom of the vanilla wafer. Press the flat side of the Hershey Kiss into the frosting and twist a little to attach it.
On the top of the vanilla wafer, at a very teensy bit of frosting in the middle and press the flat side of a butterscotch morsel to the frosting, twisting a bit to attach.
Set aside and allow the frosting to "crust" a bit which will help them to stay attached.
Notes
I would serve these the same day or at least by the next day you plan to make them. The frosting can make the vanilla wafer begin to get a little soggy. I like when this happens but if you want them to be crisper you will want to serve them soon.
Keep them in an air-tight container until ready to eat.
Pennywise Cook http://www.pennywisecook.com/
Like this post? SHARE it!