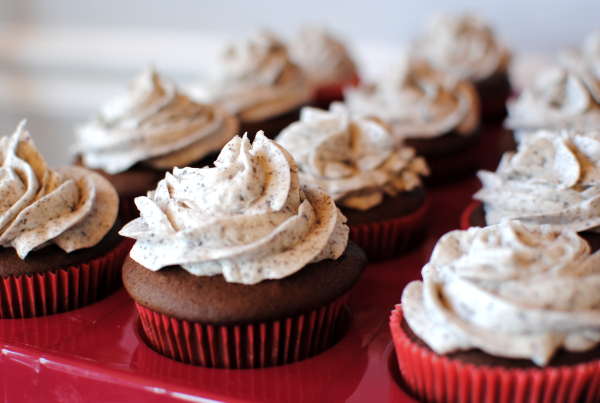 Welp, Memorial Day has come and gone which means WELCOME SUMMER! Wahoo! I got to sleep in this morning until about, oh, 7:15. That's good right? The kids slept in, but me? No. I'm still stuck in let's get going, get your shoes on, eat your breakfast mode. I'm hoping that nonsense will wear off soon. I've got to at least work up to sleeping to 8:00, don't ya think?
My youngest turned 2 this weekend! It's hard to believe that she is already 2. Her favorite show is Mickey Mouse Clubhouse, so naturally that became the theme of her party. I had a TON of fun putting it together. Don't worry, I have a post all about it coming up.
I wanted to share with you my Cookies N Cream Cupcakes. While I didn't put together a step by step with these, they were really simple. I used Devil's Food Cake Mix for the cupcakes. Only, I added a sweet surprise. Before baking, I placed a chocolate sandwich cookie in the bottom of each liner and then a dollop of marshmallow cream on top. THEN I plopped cake batter in. So they baked up with a cookie and filling inside!
For the frosting, I made a simple buttercream (no shortening in this one) and added about 1/2 cup of crushed chocolate sandwich cookies to the mix. Then piped it on and voila! These were so incredibly tasty. The cookie inside became soft after a while which I thought I wouldn't like, but I found them to be even tastier that way.
Of course, I had to Mickeytize them for the party. Here's a sneak peek of the Mickey fun! More on that later…
I think summer is one of the best times to create cool cakes. Not just because most of us have a little more time on our hands, but because the kids can help out! That is, if they can tear themselves away from the TV and video games…
Betty Crocker has got some really cute ideas for summer cakes. And you know that Betty Crocker likes to make things easy for us moms. There are some really cute cake ideas on the Betty Crocker website. I LOVE the Watermelon Cake. I think I'll be trying that one out this summer. Considering that most of my family doesn't like really watermelon, maybe they'd like it in cake form? I also find the butterfly cake to be adorable. It looks a little complicated, but Betty Crocker even provides a template for making it. How helpful!
Have you seen the cupcakes made in ice cream cones yet? It's a popular pin on Pinterest right now. Check out the infographic that Betty Crocker put together about how to easily put those cuties together.

Have you made the ice cream cone cupcakes before? I haven't yet braved them so I'd love to hear your thoughts!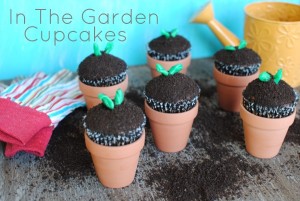 I made these In The Garden Cupcakes last year. They were a blast to make. You can find out how to make them here.
I'm full of inspiration for making cakes this summer now! You can find more summer cake inspiration from Betty Crocker!
This is a sponsored post written by me on behalf of Betty Crocker. All opinions expressed are 100% my own.
Like this post? SHARE it!