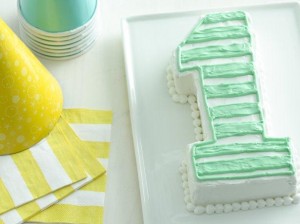 (Photo Courtesy of Betty Crocker)
I can remember back to both my girls' 1st birthday parties. I spent lots of time figuring out the perfect theme, the decor, the guest list, and of course the food. I loved choosing these things because, let's face it, I thought they were cute, not necessarily because my daughters even cared. But hey, that's the fun of it right? By the way, if you need a few Mickey Mouse Clubhouse party ideas, there are some pretty fantastic ones HERE.
And then there's this…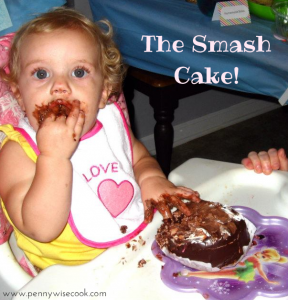 Oh yeah, now we're talking! Let's just be honest with ourselves. 1st birthdays are mainly about one thing and one thing only. Watching a child dig right into a massive mound of sugary, gooey, frosting-laced cake! We don't concern ourselves with the mess that will be made, the hyped-up 1 year old full of sugar who will probably have a major meltdown in a couple of hours, or even the work that goes into making the smash cake. It's all about the memory of that moment. And it's a good one!
According to a recent survey that Betty Crocker did, 58% of moms said that the smash cake was the most memorable part of their precious one's birthday party. I have to say that I'm with that 58%. I can remember both of my girls' moment of smash cake bliss. It's something that I will treasure forever.
If your little one has their first birthday coming up, chances are you've been thinking about party details. I love some of the ideas that Betty Crocker has for smash cakes. I especially like the No. 1 Cutout Cake at the top of this post! You can find out how to make that and many others HERE.
The infographic below also has some good ideas for whipping up a birthday smash cake.
Whatever kinda cake or decorations that you choose to create or have at your little one's special birthday party, just remember that it's all about the memories! Take lots of pictures, involve your loved ones, and DON'T STRESS! They only have a 1st birthday once and the memories will last a lifetime.
This is a sponsored post written by me on behalf of Betty Crocker. All opinions expressed are 100% my own.
Like this post? SHARE it!