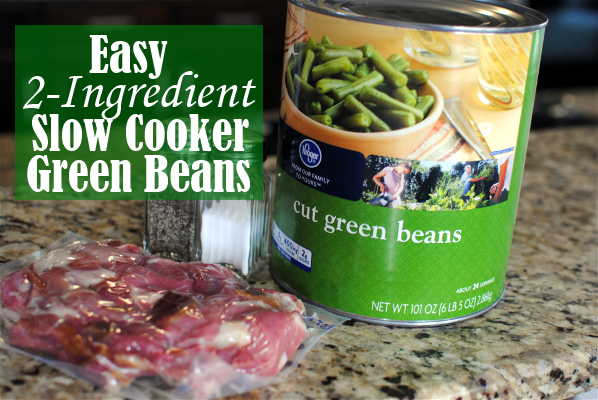 Today's recipe is one that came from my grandmother! She has always been innovative when it comes to cooking and making things easier and tastier. This one is one that she came up with when having to feed a crowd. Seems like she is always having a get together with family and friends. It doesn't matter what time of day it is when I stop by to see her, she will offer me FOOD! That's what grandmothers are for, right?
So this recipe. It's SO easy and will feed a crowd. It's easy on the wallet as well. You can make this to take to an event or serve right out of the slow cooker when you have folks over.
It's a fix it and forget it kinda side dish that honestly, I could eat as a meal. My Addie doesn't think fond of my veggies, but this is her absolute favorite. It's almost bribe-worthy. Almost, I mean come on, they are green beans.
It starts with everything above. 1 LARGE can of green beans. It's a 101 oz or 6 lbs, 5 oz can that you can get at Walmart, Kroger, or most grocery stores. Sam's Club usually has the best price on these around $3.68 (ish). You will also need a 12 oz package of country ham seasoning pieces. This is fairly inexpensive too. I got this package for just $1.88. That makes this entire side dish around $6 bucks total. Not bad!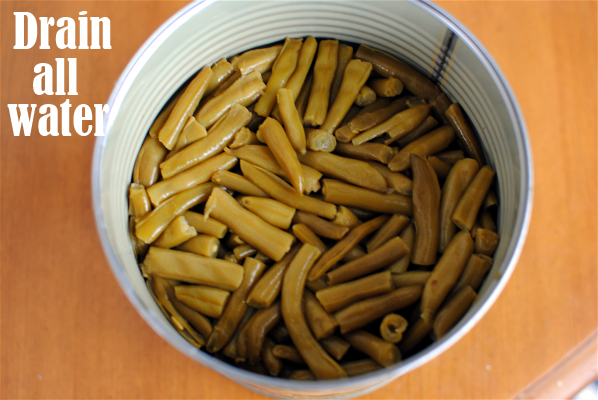 Ok, so start by opening up your can of green beans and draining out EVERY LAST DROP OF WATER. This is essential. The green beans will create their own water while cooking and if they have too much moisture, they will become mushy. Draining them gives just the right amount of juice.
This is so hard so far, right?
Refrain from complaining too much.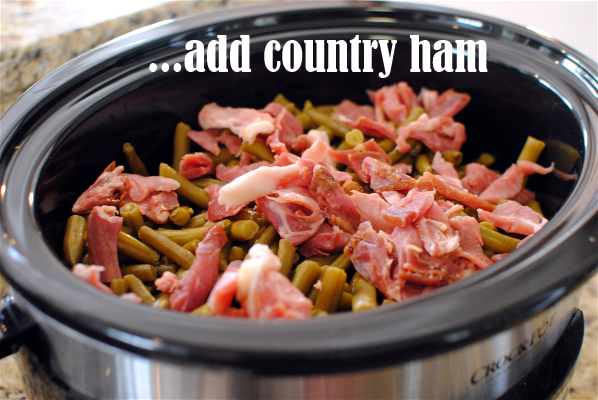 The country ham is already in pieces, but I usually cut it into smaller pieces. I also DO NOT remove the fat from the pieces. You could, if you were really serious about fat, but honestly it gives it even tastier flavor.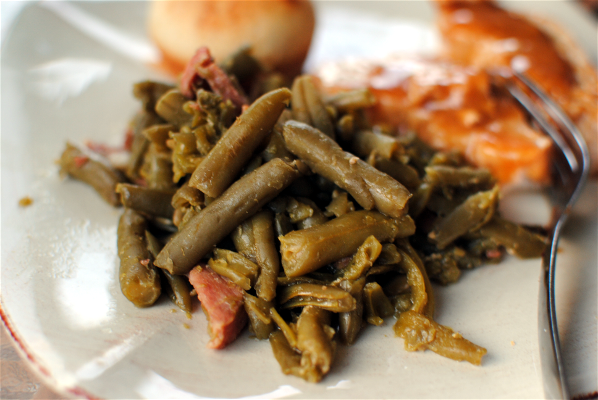 We had these last night and Addie was so excited to be getting her favorite beans. I'm pretty sure that I had 3 helpings and many bites of them while putting the leftovers away. Do you do that? It's hard not to steal a few tastes while getting it all prepared for the refrigerator. Even though I was stuffed to the gills!
Let me know if you try these!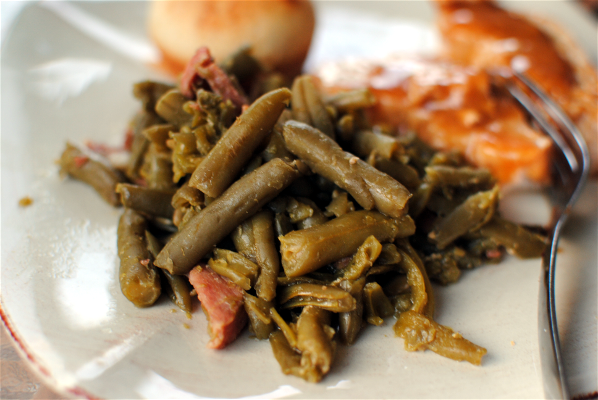 Slow Cooker Green Beans
2014-07-08 08:45:35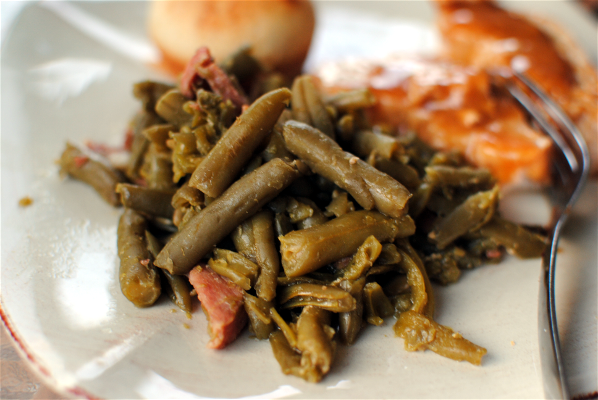 Serves 15
A simple 2-ingredient slow cooker recipe for making A LOT of tasty green beans.
Ingredients
1 (6 lb, 5 oz) large can of Green Beans, DRAINED
1 (12 oz) package country ham seasoning pieces, cut into small pieces
Pepper to taste
Garlic powder to taste (optional)
Instructions
Place drained green beans and chopped country ham pieces into slow cooker. Set to low and cook 8 hours.
After a few hours, add pepper to taste.
Notes
I usually add a little garlic powder to mine. I just eye ball it.
You can also cook these on high for 4-5 hours in a pinch.
You could also make these overnight for a gathering the next day if you wanted to. No one would ever know they cooked while you slept!
Pennywise Cook http://www.pennywisecook.com/
Like this post? SHARE it!