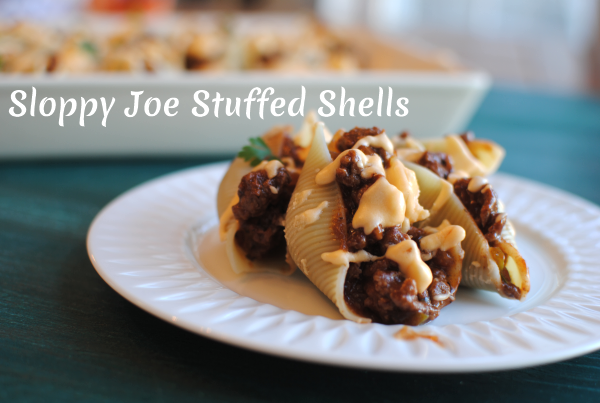 I am always on the lookout for ways to change up everyday meals. Meatloaf and pizza are good. Don't get me wrong. But sometimes, they just get old and boring. I have a lot of fun experimenting with food. It's kind of a hobby of mine. It's why this blog exists!
Stuffed shells are a family favorite. There are so many variations and concoctions that you can stuff them with. My latest creation? Sloppy Joe Stuffed Shells.
Sloppy Joes are so simple to whip up on a week night for dinner, but guess what? They are sloppy! (whodathunkit?) I was thinking that if we could eat them in shells, they might stay contained and actually be easy to eat.
Hey, we could get rid of that sloppy and just call them Joes! Joe Stuffed Shells……hmmm. Nah. You could possibly call them Not-So-Sloppy Joe Stuffed Shells. That's too long. I give up. We'll stick with Sloppy Joe Stuffed Shells.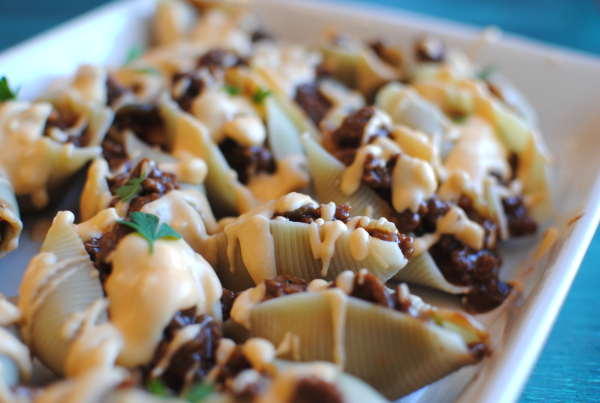 These aren't made with the canned Sloppy Joe sauce. It's homemade and extra easy. I even got to use a green pepper from my garden in it. I'm sure that you're wondering about the cheese sauce on top there. Well, you see, my husband likes to add cheese to just about everything. And following suit, he asked if I could drizzle some cheese sauce on top of the shells too. I did this for him. Feel free to add it if you like, but they are still just as great without the cheese sauce.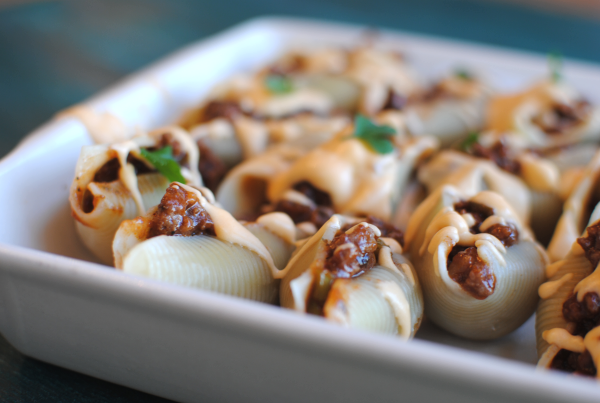 Just as I suspected, these were quite neat to eat! Much neater than a messy old Sloppy Joe Sandwich. My husband isn't a huge fan of Sloppy Joes themselves. We came to the conclusion after this meal that it was in fact, because they are sloppy. The shells make it really easy to keep all the yummy and sweet meat inside. Which means that you'll most likely end up eating them with your fingers.
We did and we're not ashamed!
The best part about this meal is that it's super affordable. With the meat of your choice (ie ground beef, ground turkey, even chicken!), a few handy sauces, and simple spices, these shells comes together in no time and don't even require baking.
| | | |
| --- | --- | --- |
| Sloppy Joe Stuffed Shells | | |
Author:
Believe it or not, Sloppy Joes don't have to be sloppy when you make them in shells like this!
Ingredients
1/2 Package Jumbo Shells (you can make an entire box, but you won't need it)
1 lb Extra lean Ground Beef
1/2 c. Onion, chopped
1/2 c. Green Onion, Chopped
1 Clove Garlic, minced
1/4 tsp salt
1/2 c. Ketchup
1/2 c. BBQ sauce (your choice)
2 tbsp Brown Sugar (I used Splenda Brown)
1/2 tsp Italian Seasoning
For Cheese Sauce
2 tbsp Butter
1/4 c. Skim Milk
4 oz Cream Cheese
1 c. Shredded Cheddar Cheese (Reduced Fat)
Instructions
Prepare noodles according to package. Drain and set aside to cool.
In a large skillet, brown ground beef with onion and green pepper. Drain and add in all other ingredients. Simmer for 5-10 minutes or until warmed through.
Stuff shells with meat mixture.
For cheese sauce- melt butter in a small sauce pan. Add the skim milk. Melt in the cream cheese stirring until smooth. Add in shredded cheese until melted and smooth. Drizzle over stuffed shells.
Notes
These could even make little appetizers at a party!
Like this post? SHARE it!