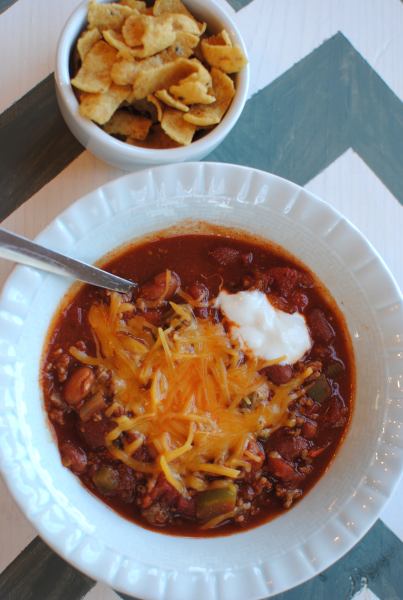 The day has finally come when I get to share with you one of my favorite recipes of all time. Now that it's getting chillier outside, it's time to make up a big pot of chili! I look forward to this part of the year practically all year long.
This my friends, is my momma's chili recipe. She's been making it for us since I can remember and it's the best that I've ever eaten. It could be that I'm biased because, well, it is my momma's. But I'm going to say that this isn't the case because I've tried a lot of chili in my time. I even had the opportunity to go to Cincinnati recently and try the "world famous" Skyline Chili.  It was just ok to me. I don't really understand the hype behind it to be honest.
Maybe I'm just a southern gal, but I like my chili to be extra chunky. It's got to be hearty and fill me up and keep me warm. After all, what's the point in eating chili otherwise?
I asked you guys on the Pennywise Cook Facebook Community recently if you enjoy your chili with corn chips or cornbread. I guess I should've included crackers because many of you said that's what you eat yours with.
I have grown up eating chili with corn chips. I just couldn't imagine eating chili any other way. They are like peanut butter and jelly to me. However, it was pointed out that this is almost more like a Frito Pie rather than chili. So if you prefer, eat your chili with whatever you'd like. Cornbread, crackers, corn chips, or nothing at all!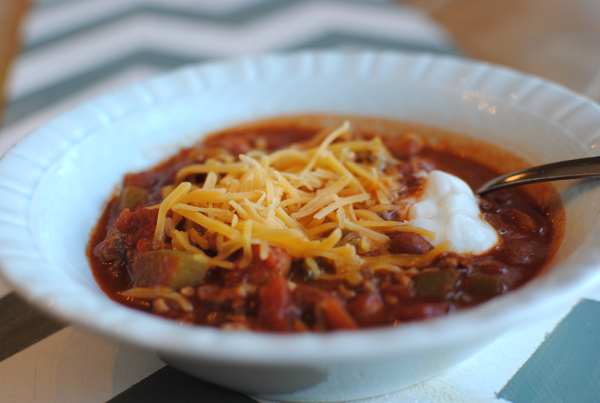 No matter what you eat your chili with, I highly recommend this recipe if you're going to make chili. It's full of flavor and perfect for a weekday or weekend meal. Plus a pot of this stuff will last you all week! That's one of my favorite things about making up a big pot. We'll have lunches covered for days. And because it's so good, you won't hardly get tired of eating it.
This is a crockpot-friendly meal, but I can assure you that it comes together rather quickly. The key is to brown your ground beef along with the onion, green pepper, and garlic. This saves so much time. Then it's just a matter of heating everything else through.
You may never make another chili recipe again…
Author:
This chili recipe is hearty and filling and may be the last chili recipe you ever make!
Ingredients
1 lb Lean Ground Beef
1 Onion, Chopped
1 Green Pepper, Chopped
3 tsp Minced Garlic
28 oz Can Diced Tomatoes (undrained)
6 oz Can Tomato Paste
3 cans water
15 oz Can Light Kidney Beans (drained)
15.5 oz Can Pinto Beans (drained)
3 Tbsp Chili Powder
1 Tsp Salt
1/4 Tsp Pepper
1/2 Tsp Garlic Powder
1 Tsp Cumin
Dash salt and pepper
Instructions
In a large pot or dutch oven, brown ground beef along with onion, green pepper and garlic. Add salt and pepper to taste. Drain if needed.
Stir in diced tomatoes, tomato paste, 3 tomato paste cans of water, kidney beans, pinto beans. Heat oven medium high for about 10 minutes.
Stir in chili powder, salt, pepper, garlic powder, and cumin. Stir well and bring to a boil. Lower heat and simmer for about 5-10 minutes or until heated through.
Like this post? SHARE it!