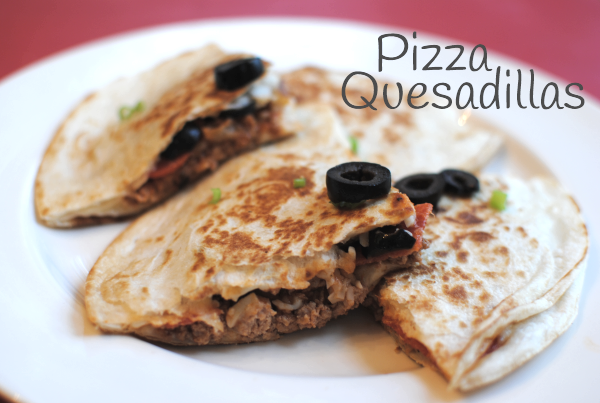 Every now and then to change lunch up just a bit, I make what my little girl what she likes to call "pizza tacos". I use a tortilla and spoon on some pizza sauce (or sometimes just tomato sauce) along with some pepperoni and mozzarella cheese. I roll them up and microwave them for a few seconds to help the cheese melt. It makes a really tasty lunch. After making one for her the other day I got to thinking about how the same might taste good in a quesadilla.
The idea eventually made its way to my menu plan and I was excited about that night. It was another one of those dinners that I knew everyone would love.
One of the best things about making these quesadillas is that you can customize them to the eater's liking. For instance, I like my pizzas with everything on them. Well, minus any small fish or fungi. My daughter and husband? Not so much. Strictly cheese and pepperoni. But I did add some meat to the mix for substance since this is for dinner after all.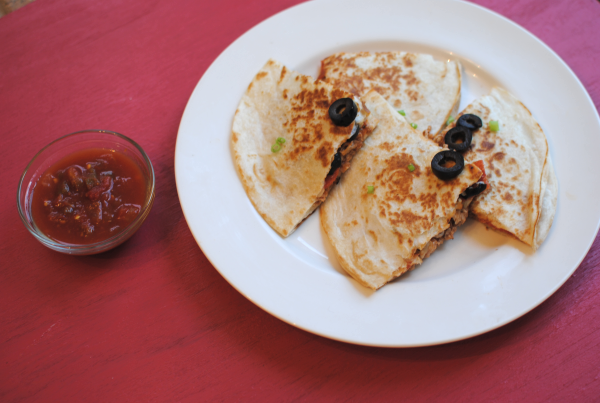 These were a major hit with the fam. I even told my hubby that I have to hand it to myself, they are pretty good. I dunked mine in salsa although some might find that a little weird. Pizza and salsa don't exactly go together, but they tasted fine to me. You could dip them in more pizza sauce. I'm sure that would be tasty.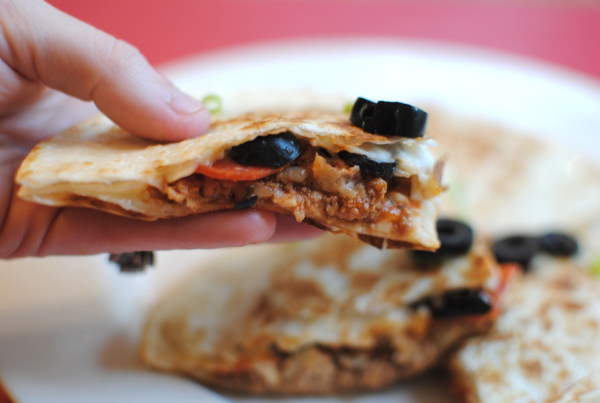 Oh yeah. That's obviously a picture of my quesadilla with olives and all. Feel free to leave those off if you must.
Here's the recipe.
Author:
Make this every day Mexican dish and make it Italian. These Pizza Quesadillas are extra tasty!
Ingredients
1 lb Ground Turkey
1 Tsp Minced Garlic
1 Tsp Onion Flakes
1 Tsp Dried Oregano
1/2 Tsp Dried Basil
1 Cup Pasta Sauce
Sliced Olives
Pepperoni
2-3 c. Shredded Mozzarella Cheese
8 Medium tortillas
Cooking Spray
Instructions
Brown ground turkey with garlic, onion flakes, oregano, and basil. Add pasta sauce and cook for about 5 minutes.
Heat a skillet to medium high heat. Spray with cooking spray. On a tortilla place about 1/3 c. shredded cheese, then some of the meat mixture, then top with optional olives and pepperoni. End with cheese and top with second tortilla. Place into heated skillet for about 2-3 minutes.
Spray top tortilla with cooking spray then flip the entire quesadilla with spatula.
Repeat for next 3 quesadillas.
Notes
This makes about 4 quesadillas that make 4 squares each. They are surprisingly filling too!
Like this post? SHARE it!