Well hello there! Long time no….er….blog?
As I was preparing the pictures for this post, even my husband made the comment about my lack of my snapping of photos of our dinners. Yes, I am usually known as the papparazi of food around here, but for the past couple of months there have been some awesome things happening around here and needless to say, I've been just a bit preoccupied.
But have no fear! I have a recipe today. One that even the least of cooks can throw together in minutes and makes for a family pleasing meal. Crockpot Chicken Tacos only take 3 ingredients and one of them is water. Your HUSBAND could make these.
He might get a big head afterwards. Just tell him that he did fabulous on dinner and that you adore his culinary skills. You didn't realize that Crockpot Chicken Tacos could help you stroke your husband's ego did you?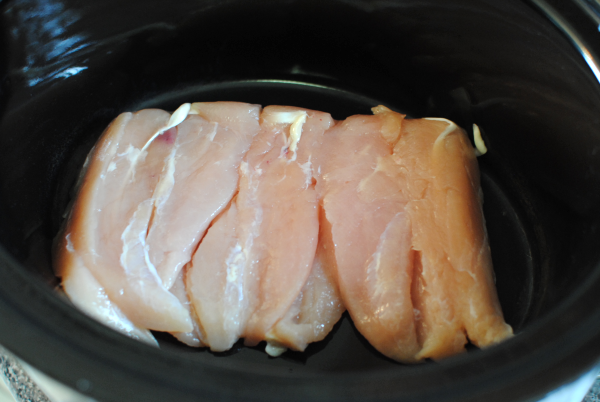 The most important ingredient in this one is, well, chicken! You need about a pound to a pound and 1/2. I used fresh because I got some on clearance, but frozen will also work. You'll just need to adjust your crockpot setting depending on how fast you'd like it to cook.
Use tenderloins, breasts, thighs, whatever you'd like. It's going to get tender and you'll shred it anyways.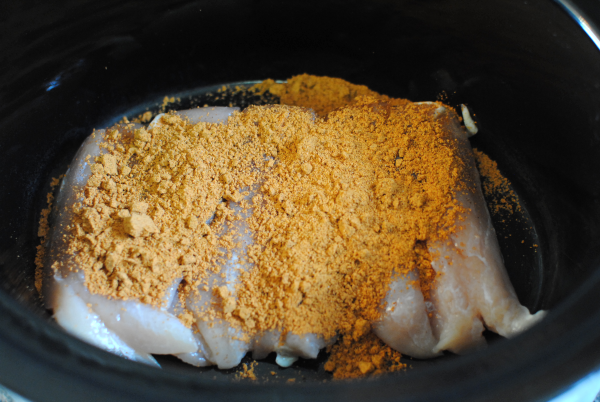 Brace yourself, this is where it gets a little tough. You must open a packet of taco seasoning and sprinkle over the chicken. I know, I know. How could I ask you to do such a laborious thing? Well suck it up. You'll live.
Here's the last step. Add the amount of water listed on your taco seasoning packet to the crockpot.
Place the top on your crockpot and walk away. Go update your status. Take out the trash. Clip your toenails (you know who you are). Hey look, now you have time to make a dessert! Might I suggest Salted Caramel Brownies? 
I usually let it cook for about 6 hours on low when I'm using fresh chicken. Towards the end of the cooking, I usually add just a tad bit more water and then shred up the chicken. It's so tender that just stirring it usually shreds it without hassle.
Add your favorite toppings and enjoy.
We've started having what we're calling Taco Tuesday. Some form of taco will be made on Tuesdays. Whether casserole, soup, or plain tacos, that's our theme. And beef is good, but sometimes chicken feels a bit healthier. Plus, it's a nice change.
Recipe Type:
Main, Crockpot
Author:
With only 3 ingredients (one of which is water) and a crockpot, you can have chicken tacos for dinner tonight!
Ingredients
1- 1.5 pounds fresh or frozen chicken breasts, tenders, or thighs (your choice)
1 package taco seasoning
Water listed on taco seasoning packet + a bit more
Toppings of your choice
Instructions
Place fresh or frozen chicken into crockpot.
Sprinkle with taco seasoning.
Add the amount of water listed on the seasoning packet.
Cook on low for about 6 hours (fresh chicken) or medium/high for 6 hours (frozen).
Add a little water, about 1/4 cup towards the end. Let absorb then stir and shred.
Serve with tortillas or shells and add your favorite toppings!
Like this post? SHARE it!