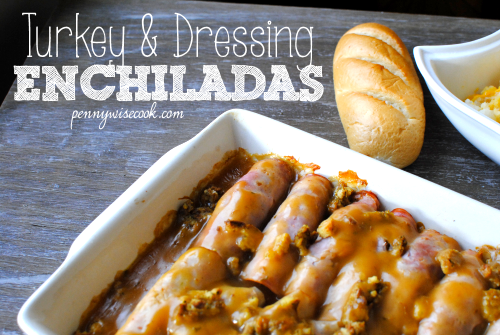 When I think of Thanksgiving, the very first thought that comes to mind is FOOD. I think that's what most people think of. I mean that's what it was all about back in the day. The Pilgrims and the Indians shared a meal together to show their thanks for helping them to survive once they arrived in America. They gathered around FOOD.
Food is almost always the centerpiece. Birthdays (cake), Christmas (cookies and Ham), showers (finger foods), potlucks (things covered in butter or cheese), etc. You get the idea. We are a culture that is built around enjoying our food.
As a mom now, I also see the other part of it. It's also about the time that you put into it all. Blood, sweat, and turkey tears at Thanksgiving!
Luckily, I have a recipe for you today that might just present an alternative to the usual Thanksgiving all-day affair. It's not your everyday, full-blown turkey extravaganza, but it's pretty and would make a great meal if you're having people over around the holidays. And if you're not in the mood for spending hours in the kitchen on a normally very busy day, this might be right up your alley too!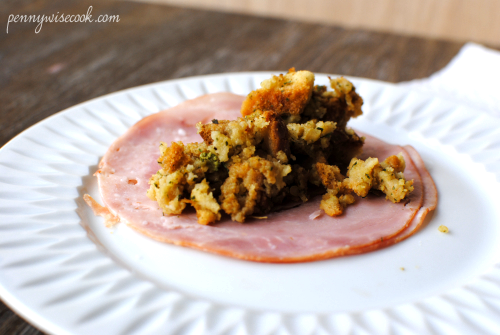 Turkey and dressing go hand in hand. Why not snuggle them up close together? (For the record, this is actually a picture of ham and dressing) Prepare your dressing according to the package or recipe and then lay out sliced turkey (or ham). Plop your dressing right down in the middle. They're going to warm up real nice together in the oven…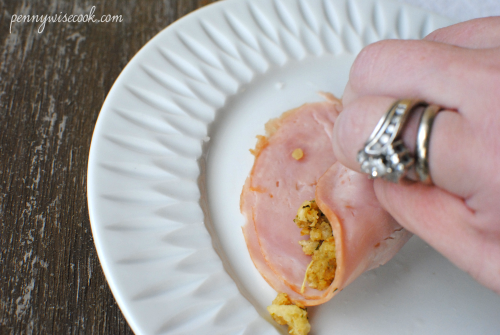 It's time to cuddle y'all! Tightly roll inward trying to keep that dressing from falling out the sides. If it falls out, just stuff that dressing right back into the sides.
We had some leftover dressing, so I just sprinkled it all over the top. I have turkey on the left here and ham on the right. I normally make this with turkey, but I had a request from the hubs to try it with ham.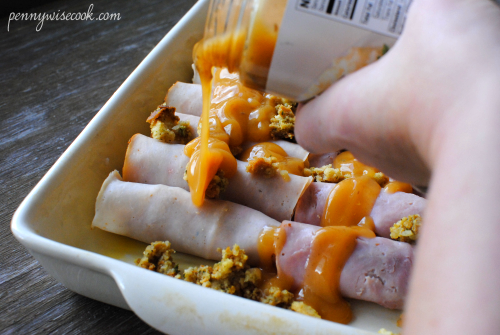 Using your favorite turkey gravy (yes you can just make it too!), pour it ALL over the top of your rolls. Oh my goodness, this is when it gets sooooo tasty!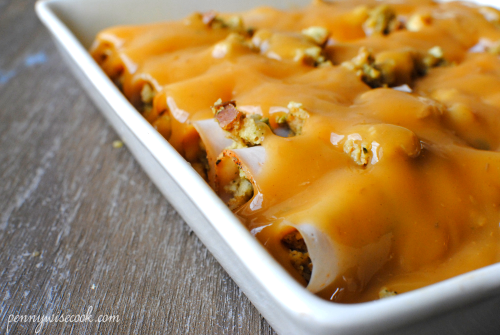 This is what it looks like right before you pop it into the oven.
Turkey…
Dressing…
Gravy…
…all in one yummy delicious place.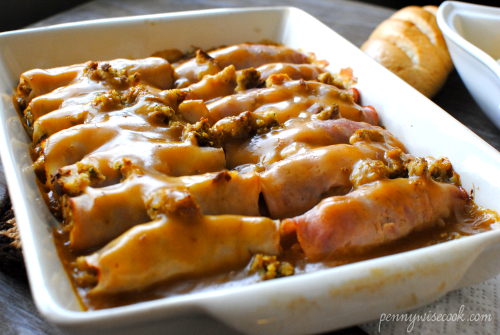 It's a beautiful presentation and worthy of company. I make it for my family and every time I say I need to have somebody over so I can make this for them!
I haven't tried yet, but I think it would be yummy to add in some cranberry sauce to a few. What gorgeous color that would add to the dish!
Make this yourself and let me know what you think!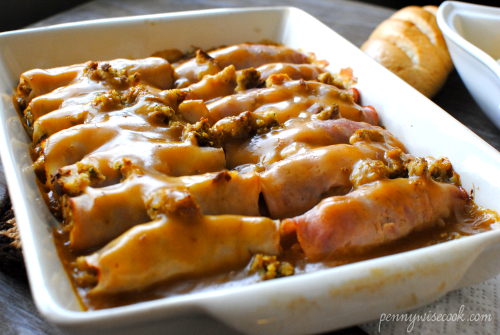 Turkey and Dressing Enchiladas
2014-11-19 05:46:17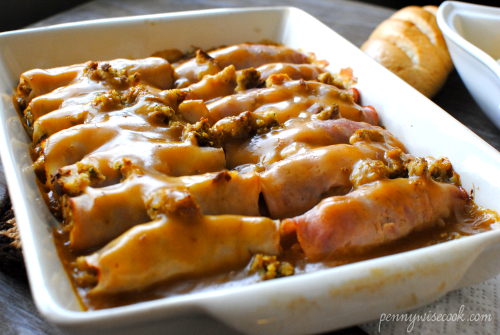 A simple dish made with simple ingredients, but doesn't actually look like it was simple to make! Turkey and dressing make a special cuddle in the oven to create this tasty dish!
Ingredients
1 (6 oz) box dressing- Or make your own!
1 (12 oz) jar or can turkey gravy- Or make your own!
14-16 pieces of thick-sliced deli turkey
Instructions
Preheat oven to 350°.
Make dressing according to package (or recipe) directions. Let cool.
Drop a large spoonful onto a slice of turkey. Roll inward tightly and place seam side down in a casserole dish. Repeat until all slices are stuffed and rolled.
Pour gravy over all of the rolls evenly.
Bake 25-30 minutes.
Notes
I have made this with both think and thick turkey slices. If I am using thinner pieces, I double them up.
We used ham with some of them this time around. It was a hit!
Feel free to make your own dressing and gravy (especially if you already planning to do so), this is just a quicker way!
Adapted from The Four Ingredient Cookbook
Pennywise Cook http://www.pennywisecook.com/
Like this post? SHARE it!