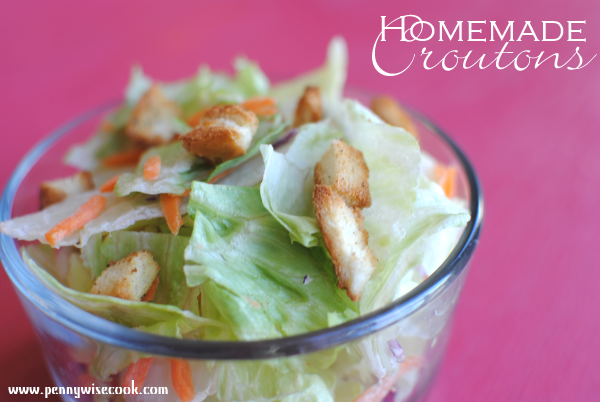 Happy Veteran's Day! I am so very thankful for the men and women who served our country to give us our freedom. I don't think that we show this enough all year. It's a huge sacrifice to put your life on the line for people all around the country that you don't even know and I am eternally grateful for those who have done so!
I'm a bit of a crazy salad person. I have been ever since high school. I love the crunch of crisp lettuce mixed with creamy dressing and other tasty components that go along with a salad. When we're picking out a place to eat, my daughter will judge if I will like a restaurant by if they serve salad or not. And then she'll say "Mom, you'll love this place. They have salad!". Thanks darling…
While I do like my salad, I also really like croutons. Like, really really like croutons. They are kinda like potato chips to me. Once I start, I can't stop.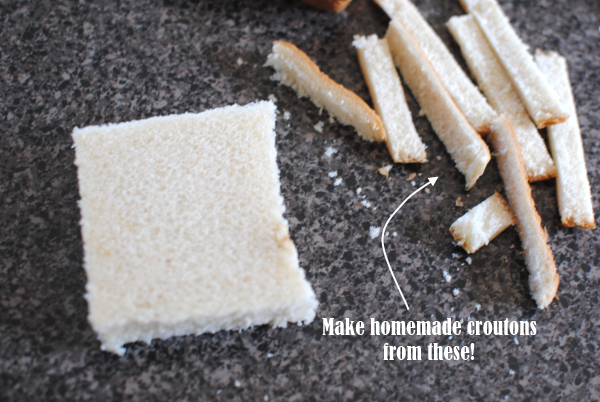 Do you have kiddos who don't like the crust on their sandwiches? Or perhaps you make things that require you to cut off the crusts.
For instance:
Grilled Cheese Rollups
3-Ingredient Lady Fingers
White Bread Cinnamon Rolls
It's recycling in a way. You can even freeze the crusts and make croutons later if you don't have time right away. Just thaw them out before preparing to make croutons. How awesome is that?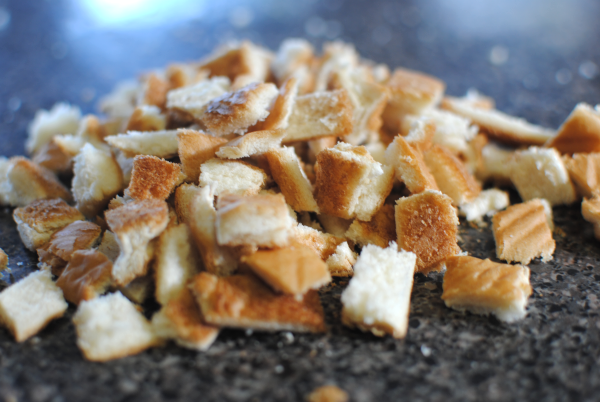 Try to line them up and then just cut them into smaller pieces like above. They already look just like croutons don't they? And in minutes they will be! Preheat the oven to 400°.
Spread them quite evenly onto a cookie sheet. Spray them well with olive oil cooking spray or butter cooking spray like me. Sprinkle with seasonings of your choice. I used italian seasoning and garlic powder.
Bake for about 4-8 minutes depending on your oven and you're done. Store them in an airtight container and pop them out when you're ready to eat a salad.
Or just eat handfuls of croutons…
….I don't do that.
…Ok, maybe I do. Don't judge.
Easy Homemade Croutons
Recipe Type
:
Salad Topping, Snack
Author:
Prep time:
Cook time:
Total time:
Here's a double duty tip when you have leftover bread crusts. Make up a batch of healthy and homemade croutons!
Ingredients
Crusts cut off the bread of your choice
Seasonings of your choice (1 tsp italian seasoning and 1/2 tsp garlic powder are great!)
Cooking Spray
Instructions
Preheat oven to 400°.
Cut crusts into smaller square pieces or desired size.
Spread evenly onto a cookie sheet.
Sprinkle with seasonings.
Bake for 4-8 minutes watching during baking to make sure they don't burn. Mine took about 8 minutes.
Like this post? SHARE it!