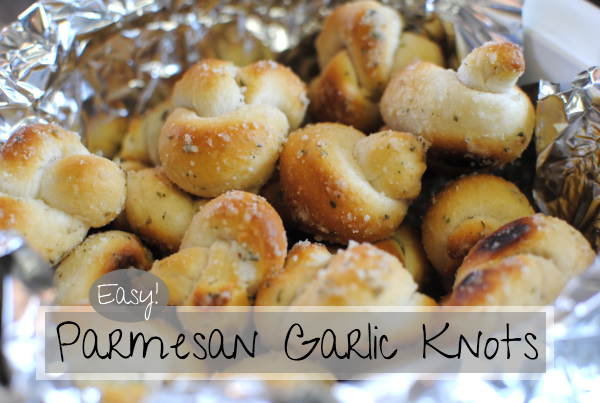 I think I could probably put the word easy in front of just about every recipe that I share with you. I usually don't attempt or create anything that involves too much work. I don't have the time or the patience most days to waste on a drawn-out recipe so I enjoy when I can crank something out easily.
My mom has been on an easy recipe kick recently and shared some killer monkey bread with me the last time we visited. Easy is a pretty relative term when it comes to cooking. What might seem easy to one might just be heavy labor to another, but today's recipe folks is for anyone's definition of easy. Mom said that she had made a couple different versions of pull-apart bread and one was a savory version that included Parmesan cheese and garlic. I'm not sure that there's anything better than those two in combination. I loved that idea and it was only a matter of when to make it.
Her monkey bread recipe was so simple and the savory version carried the same instructions with different ingredients.
Preheat your oven to 400°. Line a baking sheet with parchment paper or perhaps spray with nonstick spray.
Start out with refrigerated biscuit dough. Let's not judge here. You do it too. Pop them all out of the can.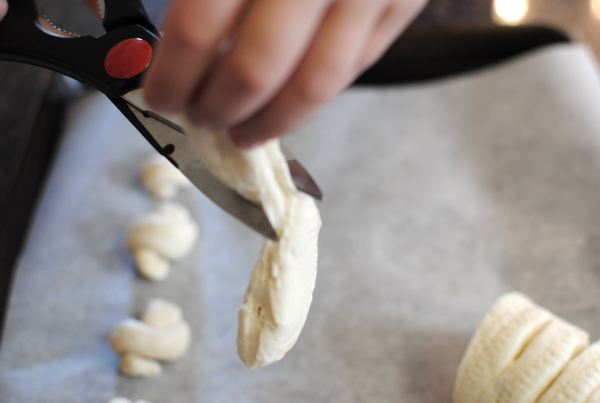 My lovely assistant, Addie helped me with the next step. Depending on how big you want your knots you can cut the biscuits in half or leave them whole. I cut mine in half to make slightly smaller knots.
Roll out the dough into a rope.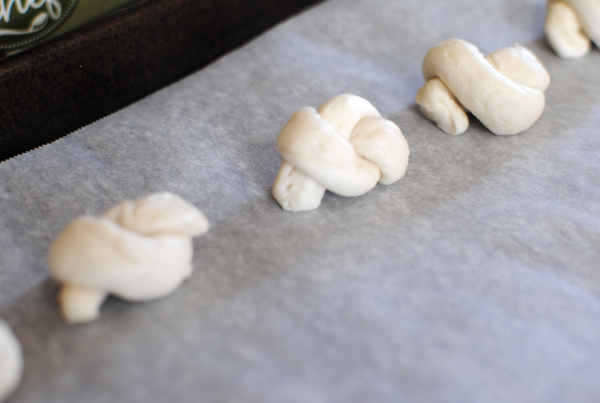 Then in all literalness, tie the ropes into knots. And don't worry about them being perfect and pretty. They are going to puff up and get eaten, who cares?!
Try to place them with the ends facing down. Then its time to bake them according to the dough's package. About 8 minutes should do. I found myself checking over and over again because I made my knots smaller. The bottoms ended up slightly dark brown.
While they are cooking, make up the coating. In a large ziploc bag, throw together Parmesan cheese, garlic powder, parsley flakes, Italian seasoning, and oil. My mom used butter for her's, but I went a slightly healthier way with a mix of olive oil and canola oil.
As soon as they come out of the oven, let them cool for just a second (so they don't melt the bag) and then while they are still warm, toss them in the cheese mixture. The warmth helps the cheese to stick to them.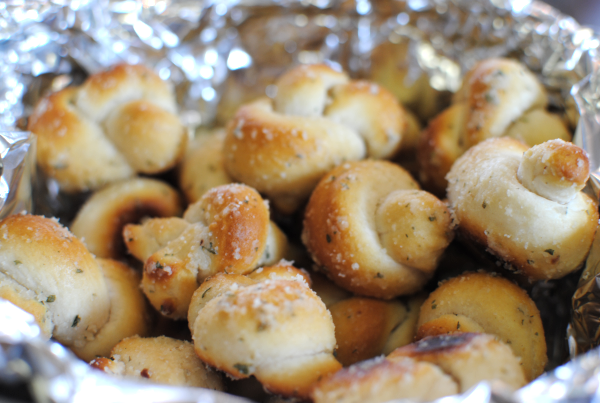 They are SO tasty! I took them to a get together the other night and everyone kept saying that they wanted the recipe. There's almost nothing to them that it seems silly to call it a recipe. Enjoy!
This recipe is thanks to my mommy and with a little help from Spark People.
Recipe Type:
Side Dish, Appetizer, Snack
Author:
Turn a simple can of biscuits into a masterpiece fit for any dish by making these Parmesan Garlic Knots!
Ingredients
1 Package Refrigerated Biscuit Dough
2 Tbsp Canola Oil
2 Tbsp Extra Virgin Olive Oil
3 Tbsp Grated Parmesan Cheese
1 Tsp Italian Seasoning
1/2 Tsp Garlic Powder
Instructions
Preheat oven to 400°.
Cut each biscuit in half for smaller knots or use whole for larger. Roll each piece into a long rope. Tie into a knot and place onto a parchment lined baking sheet. Place ends down on sheet.
Bake according to package or about 8 minutes until golden.
Meanwhile mix all other ingredients in a large ziploc bag.
Remove knots from oven and allow to cool slightly. While still warm, toss the knots in the cheese mixture until coated thoroughly.
Notes
The cheese mixture did slightly get clogged up in the bottom of my ziploc bag so if you want to avoid that, you can just toss them in a large bowl.
The go really great with spaghetti or pasta!
Like this post? SHARE it!