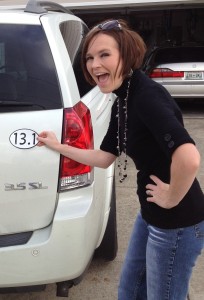 I'm getting this yummy recipe up a bit late in the day. I apologize for my tardiness! But in my defense, I ran a half marathon this weekend. And when I said I ran, I mean I literally ran the entire time. My goal was to 1) finish and 2) not to walk at all. Needless to say, I was practicing the method of sitting for 24 hours or so after the race. I kid you not, I could barely walk that night! In the picture above, I was excited to put the 13.1 on my van.
It's recipes like this one that are the reason that I run to begin with…
My daughter asked me the other day why I always make things with peanut butter. It got me thinking about how much I really do make things with peanut butter and she is exactly right. I have a deep love for the stuff.
Exhibit A:
I don't think that's too much peanut butter, do you?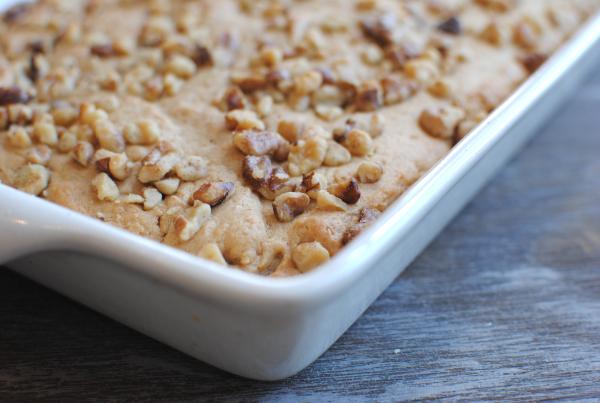 I don't ever think I've gotten opposition to making brownies in this house. In fact, every time I make them you can bet that they will be gone within a day. I have nothing at all against chocolate brownies, but my innovative mind was seeking a twist on regular brownies. Of course! What better than peanut butter to spice things up!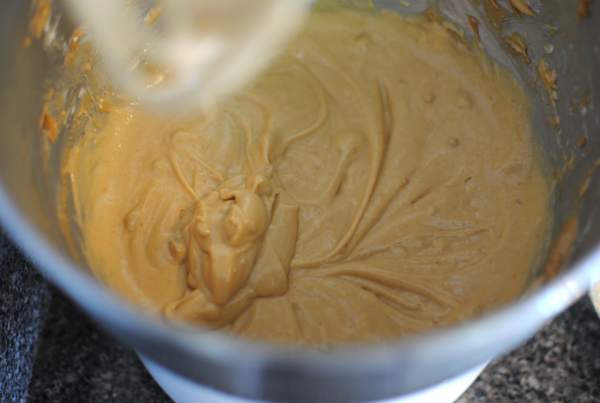 These brownies are really easy to make. The kiddos will surely want to help you out in the kitchen with these. And if not, they will definitely enjoy eating them! The batter is thick like you would expect a peanut butter batter to be. And there aren't a billion ingredients so you won't be stuck in the kitchen all day whipping them up.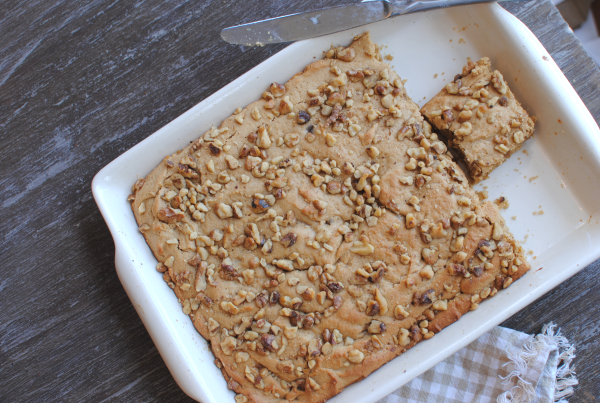 The recipe calls for nuts on the top, but if your family isn't fond of nuts, simply leave them off. I've always been under the impression that my Addie liked nuts. It was only after making these that I learned that she does not, in fact, like nuts. She brushed them off this go round, but I'll leave them off next time.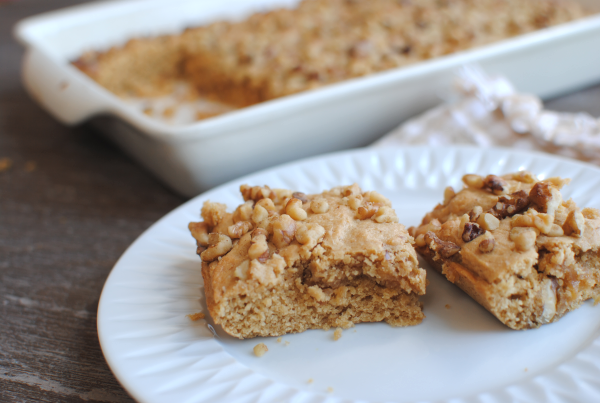 I can't wait to make these again. They really hit the spot when you're craving that peanut buttery goodness.
Recipe adapted from Family Living: Our Favorite Cookies Cookbook.
Recipe Type:
Dessert, Snack, Bar
Author:
Brownies aren't always chocolate! Try this peanut butter version for a unique twist.
Ingredients
3/4 c. Creamy Peanut Butter
1/2 c. Butter, softened
1 and 1/2 c. Firmly Packed Brown Sugar
1 egg
2 Egg Whites
2 Tsp Vanilla Extract
1 c. All-purpose Flour
1/2 c. White Whole Wheat Flour
1 and 1/2 tsp Baking Powder
1/8 tsp Salt
1/2 c. Chopped Peanuts (optional)
Instructions
Preheat oven to 375°.
In a large mixing bowl, cream the peanut butter with the butter and brown sugar. Add eggs and vanilla and beat until smooth.
In a bowl, mix the flours, baking powder and salt together. Slowly add the dry ingredients to the wet ingredients. Blend well.
Grease a 9×13 baking dish. Spread batter into pan and sprinkle with peanuts (optional).
Bake for 15- 18 minutes until the edges begin to brown. Cool.
Notes
I used a little white whole wheat flour for my brownies to bump up the nutrition, but it's perfectly fine to use only all-purpose. You would just use 1 and 1/2 c. total.
Also, feel free to use whatever nuts that you have on-hand. I actually used walnuts because I was out of peanuts. Almonds or cashews would be lovely too.
Like this post? SHARE it!